Dunlop Sports Launches New Global Websites Combining Golf Brands and Racket Sports
Press Release
•
Jan 6, 2023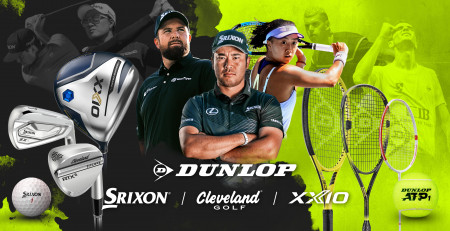 HUNTINGTON BEACH, Calif., January 6, 2023 (Newswire.com) - Reflecting the popularity of golf and racket sports around the world, DUNLOP® and Sumitomo Rubber Industries, Ltd. (SRI) will highlight each brand and offerings all under one roof in a revamped web experience.
In April 2022, SRI made a first step towards consolidating golf and racket sports branding by adding the Dunlop logo to the back of professional golfers' headwear and initiated the process of updating global sales company names under the Dunlop Sports umbrella. To further advance the "house of brands" transition, SRI recently launched new websites in the United States, UK/Europe, and Australia. In the U.S., four different websites will now become one with a completely revamped version of us.dunlopsports.com - which formerly served as the U.S. website for Dunlop racket sports. SRIXON®, CLEVELAND GOLF®, XXIO®, and Dunlop will retain their current identities, branding, and product lines, but they will now be featured on branded sections of the same website, us.dunlopsports.com. The same upgrades were made for the websites in UK/Europe (eu.dunlopsports.com) and Australia (au.dunlopsports.com) with their respective regional product offerings. The former websites will automatically reroute web traffic to the corresponding brand pages on the new website to ensure continuity.
"We took this opportunity to drastically improve our digital content and website functionality prior to major Srixon and Cleveland Golf product introductions. Consolidating our brands under a single roof and linking golf with racket sports will strengthen our global brand and marketing capabilities for the future," said Scott Carlyle, Senior Vice President of Global Marketing.
In 2023, Srixon, Cleveland Golf, XXIO, and Dunlop are set to release numerous new products, making the website a key component of product launches going into the new year. With significant technological upgrades, Dunlop's new websites will be tailored to enhance the online experience, especially on mobile devices. The new design provides easy navigation between each brand and an improved shopping experience. Starting in 2023, more corporate communications will feature Dunlop-branded messaging and multi-brand logos.
To explore the new websites and learn more about our products, head to us.dunlopsports.com, eu.dunlopsports.com, and au.dunlopsports.com.
Source: Dunlop Sports Americas