Dunleer Outperforms for Investors on Hollywood Opportunity Zone Property Sale
Press Release
-
updated: Oct 16, 2019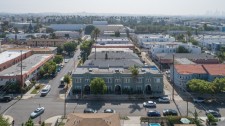 LOS ANGELES, October 16, 2019 (Newswire.com) - Dunleer, a Los Angeles-based private real estate investment and development firm, today announced an early exit on an investment in the Hollywood submarket of Los Angeles. The Centro Apartments are located in an Opportunity Zone and ultimately appealed to an Opportunity Zone buyer who acquired the asset. The sale delivered a 20% net return to investors, exceeding expectations.
Dunleer acquired the Centro Apartments in Hollywood, CA in November 2018. Dunleer founder and CEO, BJ Turner, described this transaction as a "quintessential Dunleer investment." He went on to say "Our team identified an under-valued real estate asset within walking distance to Paramount Studios and a new 100,000+ sf Netflix campus that showcased a 91 walk score – all in an Opportunity Zone. Furthermore, Dunleer was able to deliver outsized performance without absorbing construction risk, which provided significant downside protection but outperformed underwritten returns."
Dunleer's BJ Turner marked the transaction as a notable highlight: "Just over four years ago, Dunleer was founded on a simple idea – to build a highly localized real estate investing model in high barrier-to-entry infill markets that offered outsized returns. While we continue to evolve, our investor centric concept has been proven as we have now returned approximately $40 million in capital to our investors. I am grateful to our operating, construction, brokerage and financing partners who have helped us build a truly unique platform, and grateful to our investments team who bring extensive experience to our company. I am most grateful for and excited by what we have created together – excellent community outcomes and great returns for our diverse range of investors."
About Dunleer
Dunleer is a real estate investment and development company that specializes in niche focused, value add real estate investing in Southern California. Dunleer offers a differentiated approach to investing through deep industry knowledge, operational expertise, a design driven philosophy and long-term partnerships. 
This press release does not constitute an offer to sell, or a solicitation of any offer to buy any securities or investment advice, nor is it intended to be a description of all material factors an investor should consider before making any investment. This press release, together with other statements and information publicly disseminated by the Company, may contain certain forward-looking statements within the meaning of Section 27A of the Securities Act of 1933, as amended, and Section 21E of the Securities Exchange Act of 1934, as amended. Except as otherwise required by the federal securities laws, the Company disclaims any obligation or undertaking to publicly release any updates or revisions to any forward-looking statement contained herein (or elsewhere) to reflect any change in the Company's expectations with regard thereto or any change in events, conditions or circumstances on which any such statement is based. Actual future performance, outcomes and results may differ materially from those expressed in forward-looking statements.
For more information, please visit www.DunleerGroup.com
Source: DUNLEER LLC
Share:
---
Categories: Real Estate
Tags: Apartments, B.J. Turner, Dunleer, Hollywood, Los Angeles, Opportunity Zone, Real Estate, Real Estate Development, Real Estate Investment
---