Duggal Visual Solutions Recognized by NYC Mayor DeBlasio for Production Protective Healthcare Face Shields, Amidst COVID-19 Pandemic
Press Release
•
updated: Mar 27, 2020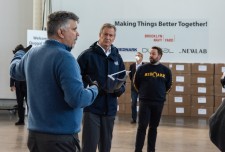 NEW YORK, March 27, 2020 (Newswire.com) - ​​​​Duggal Visual Solutions, with production headquarters in Brooklyn, NY, was honored with a site visit and press appearance yesterday by NYC Mayor Bill DeBlasio – in recognition of the conversion of print and fabrication capabilities, to mass production of 120,000 Protective Face Shields in one week. With over 38,000 cases and 387 deaths to date in New York State, hospitals are now dealing with shortfalls in the most basic protective equipment for healthcare workers.
DeBlasio visited the team of 150 employees who volunteered in assembling, packing and shipping the face shields in the Duggal Greenhouse, a 30,000 sq. ft. venue and staging facility in the Brooklyn Navy Yard. Cutting of materials into facial shields is taking place in a neighboring building, Duggal Building 500, home of the companies fixture and fabrication division.
Duggal's CEO, Michael Duggal shares, "Four days ago, Duggal designed and manufactured visual displays and printed graphics; today we are collaborating with the Brooklyn Navy Yard and Bednark Studios to manufacture life-saving Personal Protection Screens for our first responders. I could not be more proud of my team, all-volunteer who came in under difficult circumstances to work around the clock to get these devices into the hands of first responders."
"This is like a wartime factory," Mayor de Blasio said. "This is what people had to do in wars all over this world — when there weren't going to be supplies coming in from somewhere else, they had to create their own. That's what's happening here in Brooklyn."
Duggal is producing the rapid response initiative in partnership with the Brooklyn Navy Yard, Bednark, and NEWLAB, launching the project only 3 days prior to initial assembly which began Wednesday, March 25. This strategic partnership will produce 120,000 Medical Face Shield by Tuesday, March 31, 2020, and will serve first responders, regional hospitals and healthcare systems. Production will continue for the foreseeable future with orders over 380,000 units.
Duggal Visual Solutions: Incorporated in 1963, an award-winning global supplier of exceptional printed visuals, custom displays, and multimedia solutions. Clientele is widely spread among top global retailers, Fortune 500 corporations, museums, galleries, non-profit organizations, photographers, visual artists, and designers.
Duggal Greenhouse: Founded in 2012, a 34,000 sq. ft. multi-purpose production staging facility, and premier events venue with NYC skyline views along the East River. The Greenhouse as an illustrious history in the Brooklyn Navy Yard, as the foundry for US Navy Ship Production, including the USS Arizona and USS Missouri.
Brooklyn Navy Yard: mission-driven industrial park that is a nationally acclaimed model of the viability and positive impact of modern, urban industrial development. The Yard is now home to over 400 businesses and generating over $2 billion per year in economic impact for the city.
Bednark: premier design and fabrication studio powered by creativity, technology and big ideas.
New Lab: supporting 150+ startups in 84K sqft at the Navy Yard.
Source: Duggal Visual Solutions