Dubai's Newest Real Estate Show Launches
Could This Popular Vlog Be The Next Million Dollar Listing?
Press Release
-
updated: Aug 15, 2018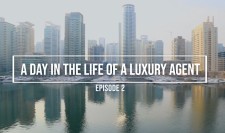 DUBAI, United Arab Emirates, August 15, 2018 (Newswire.com) - Following in the footsteps of cities like New York, Los Angeles and London, Dubai is now home to its first Real Estate entertainment show. The vlog, hosted by LuxuryProperty.com co-founder Andrew Cummings, offers a fun glimpse into Dubai's luxury lifestyle with tours of some of Dubai's hottest properties spliced with a hint of British comedy.
Andrew, a quintessential Englishman standing well over 6 feet tall and cutting a striking figure in a bespoke suit, is far from your typical real estate stereotype. Having started his career with the British government, Andrew served as an advisor to two different UK Prime Ministers before entering the real estate sector. After the first episode quickly gained over 40,000 views, Episode 2 which has just launched looks set to be even more successful.
"It is amazing that video and social media is used by just 10% of realtors – despite it being such an effective way to communicate. This week, I could meet 100 people to tell them about a gorgeous villa on Palm Jumeirah or I could simply film a video tour, put it on social media and immediately find an audience in the tens of thousands. The vlog aims to showcase the very best of Dubai, but in a fun way. I was terrified that people wouldn't enjoy my sense of humour so have been really pleased that it has been so successful."
Dubai's social influencer scene is thriving, with online personalities such as Huda Kattan of Huda Beauty, Mo Vlogs and Money Kicks all commanding millions of followers. With Andrew Cummings, the city may have finally found its first homegrown celebrity broker.
You can follow Andrew on Instagram: @dubailuxurybroker
About LuxuryProperty.com:
LuxuryProperty.com is Dubai's Luxury Brokerage, connecting local and international clients to the most exclusive properties in Dubai and across the globe.
A dynamic digital destination, LuxuryProperty.com lists an exclusive portfolio of over $6 billion of on- and off-market properties across the globe. As a brokerage, LuxuryProperty.com specializes in delivering exceptional private client advisory services with an emphasis on professionalism and discretion. The company also offers a bespoke real estate search and acquisition service through its exclusive Private Client Office.
LuxuryProperty.com is dedicated to curating and showcasing the very best in luxury living.
For more information: www.luxuryproperty.com 
For more information or details, please contact:
Arpan Ghosh, PR Officer - LuxuryProperty.com
T: +971 4 240 6211 | M: +971 52 713 4803
E: arpan@luxuryproperty.com  
Source: Luxury Property LLC
---
Categories: Real Estate, Publishing and Printing
Tags: dubai, influencer, luxury property, real estate, social media, vlog
---