Drug-Free World to Attend Gauteng City Regional Anti-Substance Abuse Summit
Press Release
•
updated: Aug 3, 2016
The next phase of the ramp up of Gauteng Premier David Makhura's #Drugs Must Fall movement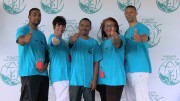 Gauteng, South Africa, March 14, 2016 (Newswire.com) - Drug-Free World Africa Coordinator Maurithus Meiring will represent his team at the Gauteng City Region (GCR) Anti Substance Abuse and Social Movement Summit March 10 and 11—part of Gauteng Premier David Makhura's initiative to eradicate drug abuse in his province.
This is the next in a series of activities to ramp up the campaign Mr. Makhura launched March 4 as the #Drugs Must Fall movement.
"We now have an opportunity to make an even greater difference in the lives of young and old in South Africa. Together we can create a drug-free South Africa."

Maurithus Meiring, Drug-Free World Africa Coordinator
The two-day summit aims to:
· Mobilize stakeholders to support the social movement
· Review input from individual sector engagement sessions
· Provide experts the opportunity to present analyses of the substance abuse problem in Gauteng
· Develop and adopt a Provincial GCR Anti-Substance Abuse Social Movement Three-Year Plan of Action.
Drug-Free World Africa was invited to speak about the success the group has achieved in South Africa with their Truth About Drugs Campaign.
Meiring sees this as a significant opportunity to tackle this urgent problem and looks forward to being part of the solution.
"We now have an opportunity to make an even greater difference in the lives of young and old in South Africa," he says. "Together we can create a drug-free South Africa."
Source: Foundation for a Drug-Free World
Related Media