Drug-Free World Presents the Basics of Drug Abuse Recognition
Drug education and prevention program at the Church of Scientology Los Angeles helps Angelinos recognize and deal with the city's widespread problem of drug abuse and addiction.
Press Release
-
updated: Aug 9, 2018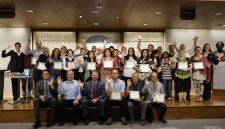 LOS ANGELES, August 9, 2018 (Newswire.com) - The extent of illicit drug use in Los Angeles is chilling. In L.A. public high schools, over one-third of the students have used marijuana in the past and 20 percent still do. And while there are hundreds of counselors, school resources officers and preventionists dedicated to helping keep our children and young adults off drugs, few of them have specialist training to know whether or not the person they're helping is currently using drugs.
To address this, the Los Angeles Chapter of Foundation for a Drug-Free World organized a special seminar - The Basics of Drug Abuse Recognition. It was open to all concerned about handling drug abuse around the city. Guest speaker was Lt. Glenn Walsh, a drug recognition expert and instructor from the L.A. County Sheriff's Dept.
Lt. Walsh did a thorough presentation on physical signs of drug abuse and how to recognize what drug is being abused. In his words: "You have to look at the eyes. That's where you'll see it. Are the pupils dilated? Or are they pinpoints? That's your best clue." This was followed by a detailed description of what to look for if someone is using opioids, marijuana, crystal meth and other "drugs of choice."
Lt. Walsh's presentation was followed by Kelly Endres, executive director of the Los Angeles Chapter of Foundation for a Drug-Free World. Endres presented The Truth About Drugs, the foundation's award-winning drug education program. Appropriate for youth as young as 10 as well as young adults and parents, the Truth About Drugs program includes cutting-edge materials and resources that are available free of charge to everyone interested in educating others about the dangers of drugs. Materials were provided to all attendees and volunteers offered to deliver on-site drug education lectures or workshops to anyone wishing that service.
"I was somewhat familiar with Foundation for a Drug-Free World materials prior to the event," said one person attending. "Now I am very aware and can see that this approach is the most effective to educate kids on drugs. I would like to have a representative come out to the school where I work to do a presentation to all the teachers on these materials."
The event was hosted by the Church of Scientology of Los Angeles, which is a proud supporter of Foundation for a Drug-Free World and is dedicated to keeping youth drug-free.
Read the article on the Scientology Newsroom.
Source: Scientologynews.org
Share:
---
Categories: Substance Abuse
Tags: Church of Scientology Los Angeles, drug abuse recognition, Foundation for a Drug-Free World.
---