Drug-Free World India is Tackling a National Crisis
Launched in 2016, Drug-Free World India has grown to a network of 31 groups across 19 Indian states with the purpose of educating India's youth to lead drug-free lives.
Press Release
-
updated: Sep 24, 2018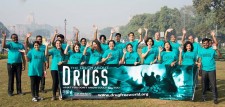 NEW DELHI, India, September 24, 2018 (Newswire.com) - Drug consumption affects millions of children and youth in India. According to a study by the UN Office of Drugs and Crime, one to three percent of the population of most states of India are on drugs, in comparison with Europe, where it is 0.1 to 0.2 percent. And a recent government survey conducted in India found children as young as 12 are addicted to heroin or opium.
Vasu Yajnik-Setia, executive director of Drug-Free World India, has taken on this problem as her personal mission. She has spearheaded drug information campaigns, organizing the distribution of Truth About Drugs booklets in the streets of New Delhi.
"Because a child's first encounter with drugs can happen at any age, the solution is to get to them before the peddlers do," she says. "I soon realized that to actualize my dream of bringing Drug-Free World to all of India, I needed to go beyond the existing lines of operations." 
Her Drug-Free World chapter grew to six groups in the greater Delhi area, India's capital with 18.9 million inhabitants, including the Dwarka team in South West Delhi that trained 250 police cadets with the Truth About Drugs who then went out to deliver to others.
It was not long before this expanded, with groups popping up in all corners of India from Telangana in the south to the Gujarat group on India's west coast and just north to the "Blue City" of Jodhpur in Rajasthan, where the group leader works in the Narcotics Control Bureau of India.
"My goal is to have a drug-free India," says Yajnik-Setia. And with 31 groups in 19 states, who have educated 125,000 people in a little over a year, she has laid the groundwork to achieve just that.    
The Church of Scientology and its members support the Foundation for a Drug-Free World, a secular nonprofit corporation that empowers youth and adults with factual information about drugs so they can make informed decisions to live drug-free. The Foundation's Truth About Drugs campaign is one of the world's largest nongovernmental drug education and prevention initiatives. As shown on a program on the Scientology TV Network, this support makes it possible for the foundation to provide drug education booklets, videos and educator guides free of charge to teachers, mentors and civic and community leaders.
According to the United Nations Office on Drug Abuse and Illicit Trafficking, "Every dollar spent on prevention can save governments up to ten dollars in later costs."
Source: Scientologynews.org
Share:
---
Categories: Substance Abuse
Tags: addiction, drug abuse, Drug-Free World India
---