Drug-Free World: A Valuable Asset to Community Leaders
Press Release
•
updated: Apr 4, 2018
Why do so many educators, school resource officers, parents and community and religious leaders rely on the Foundation for a Drug-Free World? Here are just a few of the reasons, taken from thousands of emails that pour in through the Drug-Free World website.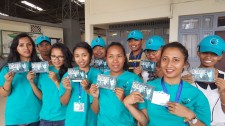 LOS ANGELES, April 4, 2018 (Newswire.com) - For anyone concerned about reversing the disastrous drug abuse epidemic affecting communities the world over, for any parent concerned about their child, for any educator who sees the ravages of drug abuse affecting children at younger and younger ages, the Foundation for a Drug-Free World is a powerful resource.
A driver education teacher described the program as "extremely valuable … in getting a clear and realistic word out to youth in my school about the dangers of drugs."
The sessions were interactive and the videos empowered the students to look at the real consequences of using drugs.

Program manager of a county public health department
A middle school teacher described her success with 5th and 6th graders using this program: "I have heard back from parents saying their child came home from school, told them all about the lessons and that they were never going to use drugs."
"I use your Drug-Free curriculum all the time and it is fantastic," wrote a police officer working as a school resource officer.
"Students often tell me the Drug-Free World videos are very professionally produced and are some of the best videos I show," wrote a drivers ed instructor from Vermont. "When I teach several classes at the same time, I don't remember what drug video I showed last. The kids always remember. They are paying attention to this in my class."
According to a juvenile substance abuse specialist, his clients are "greatly impressed by the documentaries" and find the booklets extremely informative. "Implementing this program has been a very positive experience," he wrote.
"The students relate to the real-life situations that people experience," wrote a drug education instructor. "This curriculum is outstanding."
Another teacher wrote: "I have tried other programs in the past and none have been as hard-hitting as this program."
The program manager of a county public health department thanked the Foundation for the Truth About Drugs booklets. "They have been a great tool in our drug prevention classes we conducted with students and parents for our local public alternative schools," he wrote. "The sessions were interactive and the videos empowered the students to look at the real consequences of using drugs."
The coordinator of an anti-drug coalition affected by the opioid overdose epidemic said the Foundation's website and drug education materials are "the one-stop shop we needed to help the efforts in our county as we work to fight the many heroin deaths we have had the last couple of years. Your materials are top notch and to the point. The videos pull no punches, which is what we are looking for."
The Foundation's website is an interactive environment where kids can browse for information about the most commonly abused drugs. It includes videos, downloadable booklets and online courses. Parents, educators, community and religious leaders and all wishing to take effective action are invited to order materials, which are available free of charge.
The Church of Scientology and its members support the Foundation for a Drug-Free World, a secular nonprofit corporation that empowers youth and adults with factual information about drugs so they can make informed decisions to live drug-free. The Foundation's Truth About Drugs campaign is one of the world's largest nongovernmental drug education and prevention initiatives. Thanks to this support, the Foundation provides drug education booklets, videos and educator guides free of charge to teachers, mentors and civic and community leaders.
According to the United Nations Office on Drug Abuse and Illicit Trafficking, "Every dollar spent on prevention can save governments up to ten dollars in later costs."
Source: ScientologyNews.org
Related Media