Drug Free London Volunteers Campaign for a Cleaner, Safer Neighbourhood
Press Release
•
Feb 1, 2016
Reaching out with the truth about drugs in the South London neighbourhood of Streatham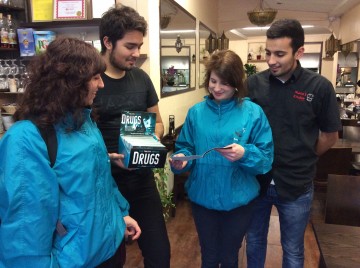 London, UK, February 1, 2016 (Newswire.com) - Residents and merchants in Streatham noticed a major change in the neighbourhood several months ago. That's when the Drug-Free London volunteers cleaned up a local car park—an eyesore with a history of fly-tipping and rubbish being dumped during the night. The volunteers were concerned that derelict spots like this tend to be magnets for alcohol and drug abuse.
Working with the local environment officer who provided gloves, bags, and rubbish pickers, the volunteers collected over 30 large bags of rubbish, including numerous empty alcohol bottles.
Retuning last weekend, the volunteers were happy to see the entire area has been transformed. It remains free of rubbish, car parking spaces have been created and a special barrier was installed to keep fly-tippers out. This is a tangible improvement for the neighbourhood and helps create a cleaner safer Streatham.
The volunteers continued the next phase of the campaign they began several months ago by distributing 4,000 more copies of The Truth About Drugs information booklets to local shops and residents.
Many merchants remembered the team and appreciated how valuable their work is to the community.
Organiser and Londoner Toni Pepperstreet said that many local shops owners on Streatham High Street were taken aback by how happy their customers were to have these booklets available, even coming back later in the day to pick up a copy. They are very pleased with the progress we are making in Streatham.
The volunteers, members of the London Church of Scientology, work in tandem with other community groups to tackle UK's drug abuse epidemic. They raise awareness of the dangerous effects of drugs, because the best way to reducing the harm from substance abuse is to prevent it before it occurs.
Related Media