DroneCompares Revealed High Marks for DJI Phantom 4 in Head-to-Head Clash With Yuneec Typhoon H
Press Release
•
Jun 20, 2016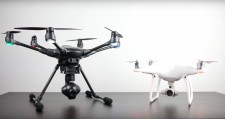 Hong Kong, June 20, 2016 (Newswire.com) - The DJI Phantom 4 beats the new Yuneec Typhoon H in nearly every category, said MW Technology's Waj Syed on Monday.
The Instafuze blogger said in a comprehensive, head-to-head comparison of the two consumer drones, that the Phantom 4 quadcopter from Shenzhen-based DJI offers a more-compact and finished package than Shanghai-based Yuneec's hexacopter.
"At the end of the day, the Phantom 4 is a more complete, cohesive product," he said, noting the Typhoon H had some "cool features," but needed refinements in its next generation to be able to compete with offerings from market-leading DJI.
Syed compared the two drones on size, controller, ease-of-use, flight time , battery and remote-control recharding time and obstacle-avoidance capabilities.
In each case, while he found some pluses for the Yuneec drone, which started shipping last month, it was trumped by DJI technology or features.
In terms of battery life, Syed said the Typhoon H's heavier weight, at just under two kilograms, likely affects battery life, which didn't match up well with the Phantom 4. In a straight-up hover test, the Typhoon H stayed aloft at about 10 feet off the ground for only 23:45, versus 27:55 for the 1.3-kilogram Phantom 4. In a test of five flight sessions, the Phantom 4 averaged 25:12 minutes aloft, against 19:34 for the Typhoon H.
Syed complained about long, 90-second load times for the Typhoon H controller's tablet and somewhat limited app. He said the DJI Go app, which runs on a user's own smartphone or tablet, has "hundreds of features," including storing all recorded video as a backup on a user's device.
He noted a lack of a ground-sensing system on the Typhoon H, which meant it drifted and wasn't able to hold its position as well as the "rock-steady" Phantom 4.
He referred to the Typhoon H's wave-based avoidance technology as "rudimentary" and said he preferred the optical-avoidance system on the Phantom 4, which allowed it to "see" obstacles in front of it, differentiate between them and plot a new course when it encountered obstacles.
DroneCompare has made the article free on its website. It, and other valuable articles on drone technology can be found here
Source: http://www.dronecompares.com/
Related Media