DreamCatcher Software Announces Issuance of US Patent No 10001975
Issuance of key patent in the agile software development space will benefit customers looking to save time and money, and reduce risk
Press Release
-
updated: Jul 12, 2018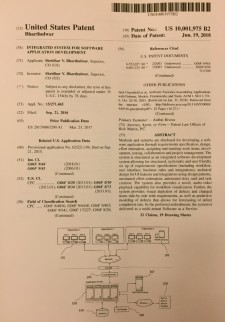 SUPERIOR, Colo., July 12, 2018 (Newswire.com) - ​DreamCatcher Software announced the issuance of US Patent number 10001975 by the US Patent and Trademark Office (USPTO). The patent covers the invention titled "Integrated System for Software Application Development" for its core product, DreamCatcher Agile Studio, a centralized, dynamic and visually managed 'System of Record' for software product requirements and design. It is used by our customers to accelerate the agile software development process through efficient tools using visual communication, collaboration and automation.
The key highlights of the invention include:
·         A visual and interactive system for capturing the business requirements associated with enterprise software applications (this includes product feature workflows, UI wireframes, business rules, and data model requirements). The requirements are organized in projects, epics and user stories to align with the agile development process.
·         A visual and re-usable system for capturing technical architecture of the product features as well as for integrations with other systems and services, including design patterns, design components and interface data fields
·         Novel ability to visualize changes in a given timeframe – enabling iterative development which is the hallmark of agile development approach. The complete version history of all UI changes is also included.
·         Novel ability to automatically generate audio-video playback of user stories which can be used for collaborative business requirements analysis, as well as for generating training content for end-users.
·         A novel ability to automatically generate detailed business requirements documents, design documents and user guides from the visual repository of business requirements
·         Ability to automatically generate tasks and estimates from the user stories, saving significant time for users and estimating tasks accurately.
·         Ability to collaborate using discussions, questions and user comments.
·         Novel ability to automatically generate detailed test cases from requirements (includes happy path and negative test scenarios)
·         Advanced text search that can search across the entire repository of requirements and design artifacts (including UI screens and widgets)
The software development process in the enterprise IT setting is a very inefficient process today. A lot of time is spent on manual tasks writing numerous unstructured documents that are difficult to find, update and keep in sync. The end result is that requirements and design are poorly documented resulting in substantial re-work and missed user expectations. Part of the challenge lies in the fact that software product requirements are difficult to express using purely textual representations of user stories. Teams try to overcome this challenge by using a multitude of tools to cobble together the visual requirements using Word documents or Excel spreadsheets. This makes it hard to update and change requirements in an efficient manner. Inefficiencies from manual activities cause delays, budget overruns and employee disengagement. User experience is compromised and end users and customers are less than thrilled.
DreamCatcher is a technology company that set out to solve these challenges and offers novel capabilities in capturing business requirements using visual and interactive tools that significantly speed up the upfront process of capturing requirements and design. DreamCatcher enables you to optimize and accelerate the agile development process with tools that maintain the integrity of the requirements and design with minimal effort. The automation capabilities of DreamCatcher are unique in the industry and help our customers save significant time and money.
"The issuance of this patent reaffirms and validates the leading edge technology that DreamCatcher is developing in the market, with the goal of reducing risk and saving time and money for our enterprise IT customers implementing software applications and product companies delivering software solutions to the market.  We are very gratified to receive this patent for our key technology," said Shridhar Bharthulwar, Founder and CEO of DreamCatcher Software.
DreamCatcher also has filed continuing patent application with the USPTO to further broaden its patent portfolio.
DreamCatcher is delivered as a SaaS (software as a service) offering in the cloud. This means our customers do not require any IT resources or infrastructure to run their projects on DreamCatcher, and they can roll out usage in an incremental, affordable manner. The license fee model for DreamCatcher is on a per-user, per-month subscription basis, making it very cost effective for teams to start using DreamCatcher without any major upfront commitments. 
DreamCatcher is a perfect upstream tool for agile project management tools such as Atlassian JIRA, CA Agile Central or Microsoft Visual Studio Team Services. You can manage all the requirements and design using visual tools in DreamCatcher and feed in the user stories with tasks to the downstream agile project management tools. DreamCatcher can also automatically create and estimate tasks from user stories, another added benefit of using DreamCatcher.
About DreamCatcher Software
DreamCatcher Software is an enterprise software company based in Superior, Colorado, focused on the business productivity segment for agile software development. It was founded in 2016 with a mission to improve and accelerate the software product development process and enable agile teams to bring to market products faster and better aligned with customer needs. The DreamCatcher Agile Studio enables innovation and improves speed-to-market by empowering agile teams to focus more on working software rather than comprehensive documentation – resulting in superior products aligned with market needs.
For more details regarding DreamCatcher including product features, benefits, and pricing, please visit www.dreamcatchersoftware.com  or contact us at (303) 408 7199.
Contact Information:
Shridhar Bharthulwar
Founder & CEO, DreamCatcher Software
Email:  shridhar@dreamcatcher-software.com
Phone: (303) 408 7199
Source: DreamCatcher Software
---
Categories: Saas (Software as Service), Computers and Software
Tags: Agile Software Development, Business Productivity, Collaboration, Enterprise Software, IT, Project Management, Software Development, Technology
---