Dragonfly DayDream Proudly Presents the Tropical Escape Collection
An Exclusive Line of Handmade Soaps and Bath Bombs in 8 Unique Scents for Women and Men
Press Release
-
updated: Mar 22, 2019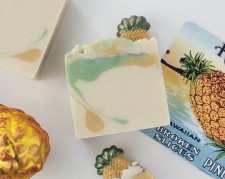 Portland, OR, March 22, 2019 (Newswire.com) - Ree Lesher, owner of the Portland, Oregon based artisan soap company, is pleased to announce the release of her Tropical Escape Collection, launching on March 28, 2019 in her online shop. This collection, exclusive to Dragonfly DayDream, features a selection of handmade soaps and bath bombs in eight scents, including several customer favorites making a fresh comeback. ​ 
Dragonfly DayDream creates whimsically sophisticated soaps and bath products for the eco-conscious individual. Their products are handcrafted in small batches in Portland, Oregon using unique fragrances that captivate the senses. The Tropical Escape Collection was created for those who seek to 'escape the ordinary' by indulging in a luxurious bath with handmade soaps and fizzy bath bombs.
The handmade artisan soap and bath bomb company strives to reduce their carbon footprint for a better world by using responsibly sourced cruelty-free ingredients, such as eco-friendly glitter and sustainable high quality vegan ingredients. They avoid using phthalates, detergents, parabens or sodium lauryl sulfates in any of their handmade bath products.
As an active supporter of renewable energy, Dragonfly DayDream maintains a studio powered by solar panels as an alternate and cleaner source of energy than those provided by standard urban utilities. They conscientiously recycle cardboard, reduce plastic waste, reuse clean shipping materials, drive hybrid vehicles, and are pleased to have recently sourced an earth-friendly, biodegradable shrink film to keep their products clean and fresh without causing environmental harm.  
Another mission of Dragonfly DayDream is to give back to their local community by supporting the Sam Day Foundation for childhood cancer research and other charities including local schools and food banks.
The heart of Dragonfly DayDream is its founder and owner, Ree Lesher. In her own words, she describes the inspiration behind the Tropical Escape Collection. "I start with an idea, feeling or place. This time it was Hawaii, which has a special place in my heart." Some of the images and senses Ree associates with Hawaii are coconut and tropical fruit, the feel and smell of tropical rain, warm sunshine, brightly colored flowers, and crashing waves of the ocean.  
"As for the color scheme [of the Tropical Escape Collection], I try to give each soap and bath bomb its own unique color scheme while keeping to the collection theme.  In this collection I use bright yellows/golds, soft blues and turquoise, fun pinks with occasional splashes of purples."
These vibrant colors, combined with the pleasantly invigorating scents in this new collection of handmade soaps and bath bombs, evoke the exotic nature of a tropical island.
The Tropical Escape Collection can be found in the online shop of Dragonfly DayDream at http://dragonflydaydream.com and in their Etsy shop at http://dragonflydaydream.etsy.com
Dragonfly DayDream has a Facebook page at http://facebook.com/dragonflyday and can also be found on Instagram at http://instagram.com/dragonflydaydreamllc
For more information about the Tropical Escape Collection or to contact Ree Lesher, owner of Dragonfly DayDream, please email ree@dragonflydaydream.com
Source: Dragonfly DayDream
Share:
---
Categories: Beauty and Cosmetic Products
Tags: Artisan Soap, bath and body products, eco-friendly gifts, Handmade, new Collection, small business, tropical collection
---