Dr. Yael Varnado, M.D., Shares Her Top Suggestions With Tips on TV on the Medicine Cabinet
Press Release
•
updated: Oct 29, 2018
TV Host "Dr. V" on Staying Healthy During the Cold and Flu Season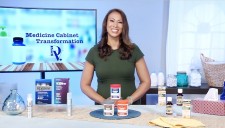 ATLANTA, October 29, 2018 (Newswire.com) - It is smart to clean out the medicine cabinet each year. An annual review of prescriptions, over-the-counter medicines, and hygiene products can help keep us safe and healthy. Expired products will not work effectively, which can end up wasting money, possibly delaying recovery from illness and affecting hygiene. Now, trusted health and lifestyle expert, Dr. Yael Varnado, affectionately called "Dr. V," has tips on where to start with a medicine cabinet makeover. Dr. V explains why it is important to regularly check out the medicine cabinet and important lifestyle changes that are necessary to avoid getting sick.
Something Surprising People Might Want to Have in their Medicine Cabinet
Hair can provide insight into overall health and well-being. Everyone's hair thins as they age, and some people start to experience it earlier than others. Whether one's hair is thinning or they just want more volume, act early and get started on a regrowth treatment like Rogaine Foam. Minoxidil, the active ingredient in Rogaine, actually boosts follicle activity so full, thick hair continues to grow. It is such an easy addition to daily grooming or beauty regimens, no matter what time of year. Just apply it once a day for ladies, twice a day for men, to be on the way to more hair! Most people see results in three to six months of regular use. For more information, visit www.rogaine.com.
Suggestions for Staying Healthy this Time of the Year
It is important to incorporate a multivitamin into their everyday routine. One recommendation is Swisse Wellness, Australia's Number 1 Vitamin and Supplement brand. They are known for using premium, high-quality ingredients, helping millions of people live happier and healthier lives by incorporating pillars of mindfulness, movement, and nutrition into their daily routines. The Men's and Women's Ultivite multivitamins contain not only the vitamins and minerals that you may expect, but also a variety of herbs and antioxidants that help maintain energy, mental alertness, and provide support during times of stress. Swisse Wellness also recently launched a Children's multivitamin with 21 vitamins, minerals, and antioxidants to help support nutrition, cognitive development, and healthy immune system response. This is a must-have for the whole family! For more information, visit swisse.com.
Something For When a Cough is Coming On
One recommendation is to have cough medicine in the medicine cabinet, in case the feeling of symptoms are coming on. Dr. V says "My go-to is the new Robitussin Honey. It is the only leading cough brand to combine real, natural honey with proven cough medicine, delivering the honey you want with the relief you need." It is maximum strength and is available in daytime and nighttime varieties. Formulated with 19% True Source Certified honey, it provides long-lasting relief while soothing and coating the throat on contact. For more information, visit www.robitussin.com
www.tipsontv.com
Contact: tipsontv@gmail.com
Source: TipsOnTV
Related Media