Dr. William Cooper Shares the Importance of Heart Health Month on TipsOnTV
Press Release
•
Feb 10, 2023
Thoracic Surgeon and Professor of Surgery Explains the Critical Need to Live a Heart-Healthy Lifestyle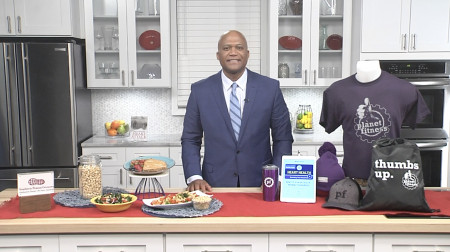 ATLANTA, February 10, 2023 (Newswire.com) - American Heart Month is observed each February to raise awareness of the importance of a healthy heart and to encourage habits that help reduce the risk of heart disease. Cardiologist and author of Heart Attack: Truth, Tragedy, Triumph, Dr. William Cooper, suggests staying active, eating healthy and watching weight is critically important. Heart disease is the leading cause of death for men, women, and people of most racial and ethnic groups in the United States. One person dies every 36 seconds in the United States from cardiovascular disease.
BUILD BETTER HEART HEALTH
Diet is the number one factor to build better heart heath, but diet and nutrition does not have to be hard. Healthy lifestyles lead to healthy hearts, and there is significant research that shows regularly eating peanuts and peanut butter can help lower blood pressure and reduce the risk of cardiovascular disease and diabetes. Southern Peanut Growers know that peanuts and peanut butter are easy to include in any heart-healthy diet. Plus, peanuts have mostly unsaturated fats and offer heart-helping nutrients like fiber, Magnesium and Vitamin E, and the most protein of any nut. Try a twist on a traditional PB&J and replace the jelly with fresh fruit on whole-grain bread. Or add peanuts to salad or stir-fry to feel good about frequent consumption of this tasty and heart-healthy food. For more information, visit PeanutButterLovers.com.
GET MOVING TOWARD HEART HEALTH
Regular exercise and movement is critically important. That is why it is never too late to kick-start that fitness journey and get moving, and there is no better time to do that than in February during Heart Health Month. Planet Fitness, the Judgement Free Zone, is a great place to help people achieve their fitness goals, boost overall energy, promote physical and mental well-being, and better their heart health. Throughout the month of February and in honor of Heart Health Month, Planet Fitness will be showing their love with a FREE Heart Health Workout Collection on the PF App! Ranging from cardio, yoga, to toning, each workout is designed to benefit heart health, boost mood, and increase energy. For more information, visit www.planetfitness.com.
Source: TipsOnTV