Dr 'V' Explains How to Kick Start Your Women's Health This Summer on Tips on TV Blog
Famous TV Host Dr. Yael Varnado-Rhodes, MD, Shares Her Amazing Strategy for Improving Health and Wellness
Press Release
-
updated: May 30, 2017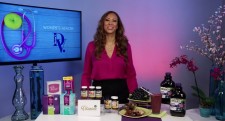 Atlanta, GA, May 30, 2017 (Newswire.com) - As a trusted health and lifestyle expert, Dr. Yael Varnado, affectionately called Dr. V, has garnered the respect of her peers, patients, and the public with her blend of passion-driven clinical knowledge and compassion. She is committed to educating women about how important it is to live healthy early on in life, so you can enjoy great health.
FOOD CHOICES THAT PROMOTE WOMEN'S HEALTH 
Women's Health Week is the perfect time for to make health a priority, and a big part of an overall healthy diet is something most women do not expect, color!  By simply adding purple fruit to a diet is a great way to help support a healthy heart and painting your plate with power of colorful produce. One suggestion is drinking Welch's 100% Grape Juice, a tasty and easy way to help support a healthy heart. In truth, it is the best way to enjoy the delicious taste and heart-health benefits of the dark purple Concord grape. Each glass of Welch's 100% Grape Juice contains no added sugar and is made with more than 40 whole Concord grapes to deliver their big taste, beautiful purple color and heart-health benefits. Welch's 100% Grape Juice is also an easy way to add color, flavor and a boost of nutrition to any recipe. Including recipes such as chunky grape salsa and purple sunshine smoothie, which are both certified as heart-healthy by the American Heart Association. For more heart-healthy recipes, visit Welchs.com/recipes.
A SERIOUS PROBLEM THAT YOU SEE THAT AFFECTS SOME WOMEN
When thinking about women's health many think about fatigue and stress management but what about pelvic health? It is alarming that 1 in 3 women experience light bladder leakage, but no one talks about it. Poise is a product that can handle these symptoms, empowering women to live confident, active lives. They have a variety of products like pads and liners that will keep women dry, day or night. The Poise Impressa allows women to live comfortably and it is also pad-free! For more information about pelvic health and to get a free product sample visit Poise.com.  
 MOST IMPORTANT ISSUES FACING WOMEN
One important issue facing women is that our bodies are constantly changing no matter what our age and we need to promote beauty from the inside out. One of those components is collagen, which is can be thought of as scaffolding for the body. As we age our skin ages, which results in our collagen breaking down and causing our skin to sag and wrinkle. Vitanova Collagen Renewal Beauty helps to support skin elasticity and firmness as well as overall daily living. They have a unique combination of all 3 types of collagen, a powerful antioxidant, grape extract and vitamin c that helps to promote the body's own collagen production. They also give back 10% to support the preservation of botanical wisdom that comes from the indigenous communities that maintain the botanical knowledge and sourcing of the whole ingredients used in Vitanova's supplements. For their full range of supplements, visit Vitanova.com.
Contact: tipsontv@gmail.com
Source: tips on tv, dr. v
Share:
---
Categories: Women's Issues, Media and News, Public Relations
Tags: dr. v, female, women, women's health week
---