Dr. Karen Y. Wilson-Starks, Author of 'Lead Yourself First!' to Have Book Signing June 16 at NYC's St. John Boutique
Press Release
•
updated: Jun 13, 2018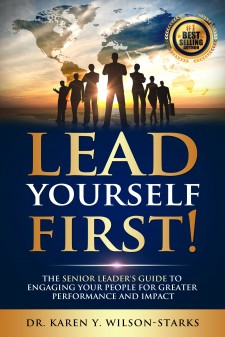 COLORADO SPRINGS, Colo., June 13, 2018 (Newswire.com) - TRANSLEADERSHIP, INC. founder, speaker and author Dr. Karen Y. Wilson-Starks will be featured at a signing for her new book, "Lead Yourself First!" on Saturday, June 16, 2018 from 3-6 p.m. at St. John Boutique, 665 5th Avenue in New York City.
In her new book, "Lead Yourself First!" Dr. Wilson-Starks challenges senior leaders to engage their people for greater impact by developing themselves first. Executive leaders are responsible for creating a culture that nurtures innovation, excellence, and consistent results. This book shows how executives can leverage their own success story to become inspiring visionary leaders who develop others and launch high-performance teams.
Dr. Wilson-Starks shares her own personal leadership journey from calling and destiny in childhood to leadership deployed in adulthood. Between sharing stories from her active duty years in the Army and a variety of other life and work experiences, she identifies lessons learned and prompts the reader to think about their own story. Readers learn to leverage their own leadership journey to build a more significant life and business.
"As the senior leader of your organization, your primary job is to be a leader who is worthy of the organization you want to build." - Dr. Karen Y. Wilson-Starks
Dr. Wilson-Starks identifies and solves a key issue with today's corporate development interventions - not including executive leadership when developing mid-to-upper-level management. The resulting communication disconnect curtails the company's creativity and growth when executives do not harness the new-found skills of their team members.
Engage Dr. Wilson-Starks as a speaker at your next event by contacting Dr.Karen@transleadership.com or calling 719.534.0949, ext. 1. See her in action at www.transleadership.com and in person for a book signing on Saturday, June 16, 2018, from 3-6 p.m. at St. John Boutique, 665 5th Avenue, New York, NY.
"Lead Yourself First! The Senior Leader's Guide to Engaging Your People for Greater Performance and Impact" is available now on Amazon.com here.
About Dr. Karen Y. Wilson-Starks: In 1995, Dr. Wilson-Starks founded TRANSLEADERSHIP, INC., to bring values-based, confidential consulting services to senior leaders and executives in Fortune 1000 companies, the U.S. military and government, and foundations and faith-based institutions. She consults with and prepares executive clients individually and with their teams to best achieve the organization's mission and to create dynamic organizational results.
She previously served as an active duty Army Psychologist at Walter Reed Army Medical Center in Washington, D.C., The Military Academy at West Point, NY; and the First Infantry Division at Fort Riley, Kansas; operated private practices in a variety of locations; functioned as the Chief of the Psychology Service for the Exceptional Family Member Program in Frankfurt, Germany; and worked as the Chief Assessor and a Senior Faculty Member for the Center for Creative Leadership (CCL) in Colorado Springs, where she continues to provide executive education.
Source: TRANSLEADERSHIP, INC.