Dr. Jason Emer Lands Cover of The Dermatologist for His Expertise on Influencing Aesthetics and Cosmetic Surgery Using Social Media
The-Dermatologist.com sat down with Dr. Jason Emer to learn how he utilizes social media with medical-based strategy, interaction, content-sharing, video creation and influencer collaboration to grow his renowned practice
Press Release
-
updated: Dec 2, 2019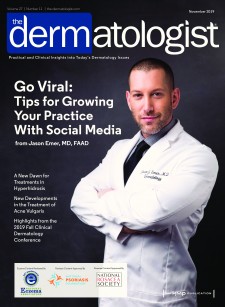 WEST HOLLYWOOD, Calif., December 2, 2019 (Newswire.com) - Social media has become the prevailing means of networking and communication amongst society as a whole, but mastering the technology to drive the success of a business is an art. Gracing the cover of The Dermatologist Magazine's November issue, Dr. Jason Emer shared some of his groundbreaking and controversial insights on the role of social media in building an aesthetic practice and influencing the world of cosmetic and plastic surgery. 
He explains how original content (including LIVE streaming and real-life stories/testimonials) allows followers to gain in-depth insights into both your personal and professional life, building a dynamic connection. Video content and instant access via LIVE chat are tools that work in tandem to educate, inform, and engage patients across the globe. His success has spawned a marketing company of his own, EmDi Agency, which will officially launch in 2020. Dr. Emer's in-house design team will facilitate his unique approach to social media, website design, branding and marketing to assist other aesthetics industry professionals, online influencers, public figures and commercial brands. 
Dr. Jason Emer opens his arsenal of tips, tricks and trade secrets for the award-winning publication on everything from logging into social for the first time to forecasting the future of the industry.  
Read the Full Article: Go Viral: Tips for Growing Your Practice With Social Media 
His practice currently uses YouTube, Instagram, Facebook, Twitter, Snapchat, RealSelf.com, Yelp, and Tic-Tok.
"I think the social part needs to be part-marketing, part-education, part-personal," said Dr. Emer, "so that people can really understand you from all levels. Find out your philosophy and promote it, your brand, and the thing that makes you unique, so people can learn about that."
"It's [the aesthetics industry] a little more like the wild West right now," said Jason Emer. "We're trying to promote expertise and skill. It's harder for a consumer, because the area is flooded with people saying their own opinions which are not always medical opinions, to truly know what's right, what's real, what's good, and what's not, unless they have a trusting doctor."  
"Eventually, it's going to be so instantaneous. You'll be walking down the street, and all of these platforms are going to know it. They're going to influence you with general content or before-and-afters. As you're walking, your phone might signal to you, 'We know you got lip filler two weeks ago. Why don't you take a look at Dr. X over here? She's doing it live right now,' and [a live feed of the procedure] will come to you instantly."
"That's why social media should be viewed as less of a commodity and more about expertise, trust, and education."
Source: Jason Emer, MD
Share:
---
Categories: Business News
Tags: aesthetics, cosmetic surgery, dermatologist, dermatology, digital, go viral, marketing, media expert, social media
---