Lunch at Groundbreaking Center for Treatment of Diseases and Eating Disorders in Boca Raton
Press Release
•
updated: Sep 8, 2016
Lunch & Learn noon tomorrow, Friday, September 9, 2016 at Dr. Fuhrman's Health Oasis in Boca Raton.​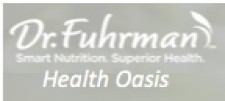 Boca Raton, FL, September 8, 2016 (Newswire.com) - Reverse heart disease one salad at a time. Find out how at our open house luncheon:
WHAT: Lunch & Learn about the only center dedicated to helping prevent, treat, and reverse Heart Disease, Diabetes, Hypertension, Eating Disorders and other Diet-Related Illnesses. Meet and greet the chef, and eat the delicious cuisine, designed to help cure food addictions.
WHERE: 350 Camino Gardens Blvd., STE 105 (east side of building), Boca Raton, FL 33432
WHY: Dr. Joel Fuhrman, Jacob Frydman and Donna Hearn proudly announce the partnership and immediate opening of the outpatient program for Dr. Fuhrman's Health Oasis, of Boca Raton.
WHEN: Join us this Friday September 9, 2016 at noon, for a fabulous taste of the healthy food that will be served to patients. Meet and greet the health center's top notch treatment team, and hear about this groundbreaking treatment program, first hand from Donna Hearn, co-founder of the center.
BACKGROUD AND LINKS
Dr. Joel Fuhrman Is the founder of the Nutritarian diet and author of New York Times Best Selling books about health, nutrition and the end of Heart Disease. He is the President of the Nutritional Research Foundation, and serves on the Medical Advisory Board for The Dr. Oz Show. He has appeared numerous times on the show, and currently has a PBS special airing called EAT TO LIVE with Joel Fuhrman, M.D.
Donna Hearn, and Jacob Frydman, founding partners of Alternative In-Treatment, of Boca Raton and are experts in the field of addiction and mental health rehabilitation. They have decades of experience treating and/or helping patients with addictive or mental health issues.
Dr. Fuhrman's Health Oasis is a ground breaking treatment center. The Outpatient program will open Monday, September 12, 2016 and immediately accept applications for patients seeking treatment for eating disorders. Treatments may be covered by medical insurance. The in-patient residential program will open November 2016. During treatment Patients will reside at the renowned Boca Beach Club, A Waldorf Astoria Resort
We invite the media to cover the event. For more information or a menu of the Luncheon:
Contact: Liz Goodman, Director of Marketing & Public Relations 516-395-6363.
Email: LGoodman@DFhealthoasis.com
Source: Dr. Fuhrman's Health Oasis
Tags
Related Files