Dr. Ben Wiese of the Kelowna Skin Cancer Screening Clinic Announces the Addition of the FotoFinder Mole Mapper
Press Release
•
updated: Oct 31, 2018
Dr. Ben Wiese announces the addition of the FotoFinder Mole Mapper to his screening and treatment services for skin cancer.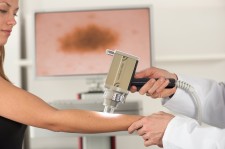 KELOWNA, British Columbia, October 31, 2018 (Newswire.com) - Dr. Ben Wiese of the Kelowna Skin Cancer Screening Clinic recently announced the addition of the FotoFinder Mole Mapper to his practice in Kelowna, British Columbia. Dr. Wiese brought on the addition of the FotoFinder to help provide the most accurate skin check possible. The FotoFinder is a highly accurate computerized mole mapping system that uses high-resolution photography and the latest in software to create an image of one's moles. This helps it to detect unusual changes in moles over time.
Doctors who are doing a classic examination will typically do a thorough scan of the patient's body, making notes on any unusual changes in moles. For patients who have an unusual mole, they may be required to get part of it removed to be tested further. With the FotoFinder, doctors can quickly take photos of the skin. Once the photos are taken, they are uploaded to the FotoFinder's computer system for analysis. Upon completion of the scan, the machine will mark moles as either "don't worry," "keep an eye on it," or "do something now." The technology of the FotoFinder will not only find worrisome moles much quicker but can determine how dangerous moles are. The use of artificial intelligence(AI) software is the secret sauce of the German found, FotoFinder. A new release of the AI software early in 2019, will make this system even more robust in monitoring moles and finding suspicious lesions.
With the latest advancements to help find moles that could turn into melanoma skin cancer, many Canadians are surprised to learn that it is not covered by insurance. Melanoma skin cancer is the most dangerous form of skin cancer. In 2017 alone, an estimated 1,250 Canadians died from late-stage melanoma. The FotoFinder can not only help to reduce the amount of late-stage melanoma diagnoses, but it allows doctors to closely monitor worrisome moles using the latest advances in technology.
Based on the benefit of potentially catching melanoma skin cancer in its early stages, the FotoFinder can save lives through early detection. It is common for adults to go through difficult procedures like mammography or colonoscopy to determine if any cancer has developed in the corresponding area. If procedures like these are covered by insurance, it seems logical to offer the FotoFinder through insurance, as it can provide a crucial early diagnosis. While it is not covered, Dr. Ben Wiese will continue to offer the mole mapping, as it can spot worrisome moles before the human eye can, making it vital in improving skin cancer rates.
About Dr. Ben Wiese
Dr. Ben Wiese originally became interested in skin cancer while studying in Pretoria and working in Kimberley, South Africa. He found that there continued to be misconceptions about the skin, and decided to take it upon himself to realign those misconceptions. After moving to Kelowna, British Columbia, Dr. Ben Wiese and his wife, Dr. Lize Wiese began their own family practice called Healthwise Family Practice in 2010.
In 2014, Dr. Ben Wiese began taking courses in dermoscopy and primary care skin cancer courses at the Universities of Cardiff and Queensland. He is also currently busy with his Master's degree in skin cancer, at the University of Queensland, Australia. While doing his Masters and having twin boys, Dr. Wiese officially opened his skin cancer screening clinic, where he continues to work with his wife today. He offers skin cancer screenings and treatments at his clinic in Kelowna.
Source: Dr. Ben Wiese
Related Media