"Dotopedia" - Digital Companion to Hit TV Series "Dot." Now Available
Press Release
•
updated: Dec 7, 2016
A new FREE app for kids, now available for download for iOS and Android Devices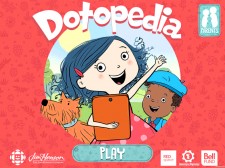 TORONTO, CANADA, December 7, 2016 (Newswire.com) - ​​​​​​​Industrial Brothers, CBC, and The Jim Henson Company are pleased to announce the launch of new digital property, "Dotopedia."
The application is based on the hit animated series "Dot." produced by Industrial Brothers in association with CBC and The Jim Henson Company and currently available on Kids' CBC and Sprout, NBCUniversal Cable Entertainment's 24-hour preschool network in the U.S.
Dotopedia was created to inspire and instill a sense of media literacy in modern-day kids. By responsibly connecting the digital world to the natural one, Dotopedia demonstrates that neither world exists agnostically of the other, and that their integration can be simple, useful, and best of all, fun.

Tammy Semen, VP, Production, Industrial Brothers
"Dotopedia" invites kids to connect, explore, and create their own digital encyclopedia - just like Dot's. Through content creation and play within a closed network, "Dotopedia" is a fun and safe way to introduce technology into kids' lives and demonstrate the cohesive integration between the digital and natural worlds.
By giving kids the opportunity to explore the subjects they're most passionate about, children will help build "Dotopedia" into a big, digital repository of their favorite information through uploading their own pictures, audio clips, and stories. The new application was developed by digital design and development studio REDspace in conjunction with Industrial Brothers, CBC, The Jim Henson Company, and The Bell Fund.
FEATURES
● Explore more than 200 articles through games and activities. Children can read them to learn about the world, or add their own text, images and audio clips
● Track progress and earn stickers and Rangeroo Badges while playing
● Unlock new articles by completing activities and playing games
● Create new articles with photos, sounds and text
● Walled-garden exploration: no social sharing or connectivity means a safe environment
● One device supports multiple accounts, which means siblings, classmates, or friends can build their own unique Dotopedia together
"Dotopedia" is available as a free download for iOS and Andoid devices.
ABOUT DOT.
"Dot." is an animated series for kids ages 4-7 about an 8-year old girl who uses technology to enhance her adventures in the natural world. Based on the picture book by New York Times best-selling author Randi Zuckerberg, the series is produced by Industrial Brothers in association with The Jim Henson Company and the Canadian Broadcasting Corporation (CBC), and can currently be seen on Kids' CBC in Canada and on Sprout in the United States.
ABOUT INDUSTRIAL BROTHERS​
​Industrial Brothers is a production and animation studio focused on creating original and entertaining content with memorable characters that tell unique stories for kids of all ages. For more information, please visit www.industrialbrothers.com.
ABOUT KIDS' CBC​
​Kids' CBC creates entertaining and inspiring media for children and the grownups that care for them. As Canada's national broadcaster we continue our tradition of excellence and innovation in children's content, and reach our audience through CBC Television, our websites, and social platforms.
ABOUT THE JIM HENSON COMPANY​
​The Jim Henson Company has remained an established leader in family entertainment for 60 years and is recognized worldwide as an innovator in puppetry, animatronics and digital animation. Best known as creators of the world famous Muppets, Henson has received over 50 Emmy Awards and nine Grammy Awards. Recent credits include the Emmy®-nominated Sid the Science Kid, Dinosaur Train, and Pajanimals, as well as the CG-animated preschool series Doozers and the upcoming digital citizenship series for preschoolers Dot, and the Netflix series for young preschoolers Word Party. Features include Disney's Alexander and the Terrible, Horrible, No Good, Very Bad Day, as well as The Dark Crystal, Labyrinth, and MirrorMask. Television productions include Fraggle Rock, the sci-fi cult series Farscape, Henson Alternative's No, You Shut Up! and the TV film Jim Henson's Turkey Hollow.
With additional locations in New York and London, The Jim Henson Company is headquartered in Los Angeles on the historic Charlie Chaplin lot, complete with soundstage and postproduction facilities. The Company is home to Jim Henson's Creature Shop™, a pre-eminent character- building and visual effects group with international film, television, theme park and advertising clients, as well as Henson Recording Studios, one of the music industry's top recording facilities known for its world-class blend of state-of- the-art and vintage equipment. The Company's Henson Alternative brand is currently touring Puppet-Up! – Uncensored, a live puppet improvisational show.
www.henson.com
ABOUT SPROUT​
​Sprout is the 24-hour preschool TV network that reflects real kids and the real worlds they are growing up in. Sprout's original programming inspires families to experience the possibilities in every single day, and includes animated series "Nina's World," "Ruff-Ruff, Tweet & Dave" and "Floogals." Sprout's "Sunny Side Up" is the only morning show for preschoolers and broadcasts live from NBCU Studios in Rockefeller Plaza. Launched in 2005 and now in over 58 million US homes, Sprout is a network of NBCUniversal Cable Entertainment, a division of NBCUniversal, one of the world's leading media and entertainment companies. Please visit SproutOnline.com for additional information.
ABOUT REDSPACE
​REDspace has been pushing digital boundaries and providing clients with unforgettable, interactive experiences for nearly two decades. From Emmy Award-winning websites and mobile apps to hundreds of fun and addictive games, REDspace's design and development services rank amongst the best in the world. The team of 150 works together to help top international media and entertainment brands, including Kids' CBC, PBS, Cartoon Network, Nickelodeon, and MTV achieve unrivaled results. ​www.redspace.com
ABOUT THE BELL FUND​
​The Bell Fund is a not-for-profit organization that provides grants to Canadian independent producers who develop and produce interactive cross-platform digital content for Canadian broadcasters to complement and enhance an associated television program. Since 1997, the Bell Fund has invested over $170M in over 1,700 Canadian digital media projects, television programs, development grants, co-productions and support for research and professional development.
Media Contact:
Scott McGuirk, Project Manager
Phone: 416.304.9637
Email: scott.mcguirk@industrialbrothers.com
Source: Industrial Brothers
Related Media
Additional Links