DotCom Therapy, in Partnership With IBCCES, Elevates the Standard for Telepractice Delivery
Press Release
•
updated: Jun 10, 2020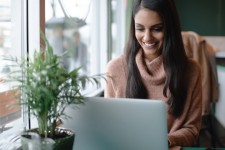 MADISON, Wis., June 10, 2020 (Newswire.com) - DotCom Therapy (DCT), the country's leading therapist-founded teletherapy company, is proud to partner with the International Board of Credentialing and Continuing Education Standards (IBCCES), a global leader in training and certification for professionals who work with cognitive disorders across industries, to present the IBCCES Board Certified Telepractice Specialist program.
Through this unique collaboration, DotCom Therapy has opened the doors of the DotCom TeleAcademy™ and co-authored curriculum for all teletherapists to earn a distinguished IBCCES Board Certification in telepractice service provision.
"We connected with IBCCES early in 2019 to create a partnership around standards in teletherapy provision," said Rachel Robinson, DotCom Therapy founder and President. "Teletherapy can feel like the wild, wild west and we are proud to work alongside IBCCES to establish this board certification in order to universally elevate telepractice."
In addition to co-authoring the course, DotCom Therapy commits to the IBCCES Board Certified Telepractice Specialist program for each current therapist by October 2020, and all hired therapists thereafter. Additionally, the company's Internal Clinical team will become IBCCES Certified to continue to set the standard for best practices in teletherapy provision for schools and families.
"Quality therapy is our top priority, so we are committed to doing whatever we can to ensure our therapists provide the best therapy consistently," said Emily Olsen, Chief Experience Officer at DotCom Therapy. "We care deeply about the services we provide and the wellbeing of our employees, so this certification, in addition to our TeleAcademy and internal training, is another opportunity for our therapists to lead as experts in the teletherapy space."
The Board Certified Telepractice Specialist program was designed for therapists to assist in sharing best practices while also creating an industry standard for certification in teletherapy. As the first board-certified credentialing program of its kind, the training will ensure direct access to industry best practices for organizations and individuals alike.
"Access to healthcare and therapy services is a priority. We are excited to offer therapists and educators all over the globe the training and certification they need to effectively deliver high-quality services in a virtual format and are proud to work with DotCom Therapy as they lead the way in the industry," said Myron Pincomb, board chairman of IBCCES.
MEDIA CONTACTS:
Lauren Curcio, Chief Marketing Officer - DotCom Therapy
Lauren@dotcomtherapy.com
Meredith Tekin, President - IBCCES
Meredith@ibcces.org
905-508-0135
Source: IBCCES