Dory Power Launches Sentry: An Exceptional Portable Battery Generator
Press Release
•
Dec 5, 2022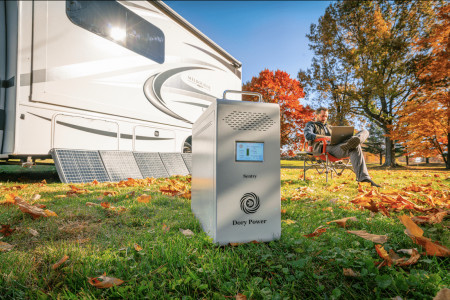 CLEVELAND, December 5, 2022 (Newswire.com) - With the announcement of a direct sales campaign featuring its newest portable battery generator, the Sentry, Dory Power is positioned to make a market-altering contribution to the portable power industry.
The Sentry—for the U.S. and Canada market (110-120V)—is a game-changing portable battery generator that is noise-free, emissions-free, maintenance-free, and completely worry-free. With its revolutionary AI technology, the Sentry is able to detect an outage and transition from electrical to battery mode within an astonishing 10 milliseconds—the fastest response technology available in the world to provide the only true uninterruptible power supply on the market today. The campaign, which will begin on Dec. 8, 2022, offers early buyers access to exclusive discounts up to 42% off.
Providing a reliable, uninterrupted power supply for everything from homes, offices, data centers, and medical facilities to the great outdoors, the Sentry generators offer seamless power conversion. All Sentry models contain advanced lithium-ion cells that are UL and UN double-certified and utilize unique AI technology that provides three layers of protection against surges, short circuits, and overheating. This technology is based on 13 years of fundamental research and development. The Sentry's unique AI algorithms steward the real-time conditions and performance of the lithium-ion battery cells by controlling voltage, current, time, and temperature. For the user, this means that a Sentry can retain its charge for over one year in storage or be continuously used for 4,000 charge and discharge cycles (over a decade of average use).
Since the Sentry generators require no fuel and can operate quietly and safely in any environment, they resolve the problems of traditional gas generators, help cut greenhouse gas emissions, and reduce overall carbon footprint. Additionally, Sentry comes equipped with a unique solar recharging capability, making it an excellent choice for the eco-conscious and adventuresome.
With its sleek and streamlined metal casing, the Sentry easily blends into any decor or environment. Sensitive enough to be the go-to choice for applications where even the briefest power fluctuations can be critical, the Sentry generators are also designed to be rugged and versatile. Equally at home indoors and out, they're ideal for camping trips and are quality manufactured in the U.S. to provide over 10 years of optimal performance.
Dory Power's mission is to provide reliable, clean, safe, and affordable backup and portable power for all people. With the exciting addition of the Sentry model, Dory is helping consumers and businesses prosper in a whole new energy reality.
Sentry:
2.6 kWh Capacity
110V-120V
2500W Continuous | 5200W Peak AC Output
Rechargeable via Grid and Solar
Fully Charged in 2 ½ Hours
Holds Charge for 12+ Months
Various USB, 12V DC, Car Outlet Ports
Integrated Surge & Drop Protector
Three-layers real-time on-board control for guaranteed safety
Smartphone App with Live Support
For more information, go to sentry.dorypower.com and see the press kit for lifestyle and product assets.
Source: Dory Power