Don't Touch the Lava — New Mobile Game Spin on Childhood Classic
Press Release
•
updated: May 31, 2017
Don't Touch The Lava has been released for the iOS and Android gaming platforms. Download this nonstop, fast-paced and alien adventure game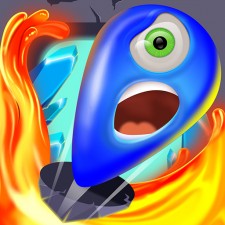 New York, NY, May 31, 2017 (Newswire.com) - AppVant Garde Studios has officially released its next major mobile title: Don't Touch The Lava. This alien world adventure game combines fast-paced movement with hair-raising obstacles to create an exhilarating game-play experience.
Players must navigate the slime ball by dragging left and right to land on the rock platforms. Dodge or tap to shoot worm monsters and crystal barricades that randomly appear in your way, and don't miss the moving platforms.
Don't Touch The Lava combines immersive 3D graphics with exhilarating gameplay for a jump-out-your-seat mobile game experience!

Brendan Ward, CEO
This adventure will keep players on edge as they try to survive in the lava river. Remember, there is but one objective: Don't fall in the lava! This endless experience combines beautiful, vibrant 3D graphics that jump out at you with intuitive and reaction-based gameplay controls.
AppVant Garde's CEO, Brendan Ward, believes the game is a remarkable nostalgic twist of the childhood classic game every kid played growing up. As he states: "Everyone remembers playing the living room version of Don't Touch The Lava when they were growing up, so we hope to link the past memories of exciting childhood adventures with a new, alien-slime infused mobile game experience. It's perfect for anyone who loves adventure and arcade-based survival games."
DOWNLOAD for iOS: http://apple.co/2rB3v6g
DOWNLOAD for Google Play: http://bit.ly/2qw07tn
ABOUT: AppVant Garde Studios is a New York City-based mobile games manufacturer, specializing in: casual, arcade and adventure-based games for global audiences on the iOs and Android platforms. Our games are designed with one thing in mind: non-stop fun.
MEDIA CONTACT:
Name: Brendan Ward
Phone: 631-365-2738
Email: contact@appvantgardestudios.com
Source: AppVant Garde Studios, Inc
Related Media
Tags
Additional Links