Don't Miss Falling in Love With Rustic and Country's Unforgettable New Summer Collection.
Press Release
-
May 31, 2016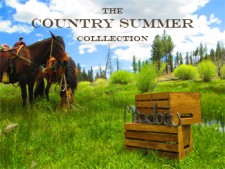 Inyokern, CA, May 31, 2016 (Newswire.com) - Rustic and Country's new summer collection is expected to generate insurmountable talk when it debuts this summer leaving you excited and breathless as it takes you on an experience of a country summer. 
This sizzling 10-piece Summer Collection will take you on an untamed journey through country life during the summer without ever having to leave your home. Whether you live in the country or in the city, you'll get to enjoy the highlights of a Country Summer and bring it into your home with simple down-home horseshoe signs. As many know, horseshoes are a sign of good luck and protection in many cultures throughout the world. Rustic and Country takes that luck and incorporates it into delightful pieces of country home décor creating words that can invoke emotions, from remembrance of life events, to standing for a way of life or a rule to live by, or simply just to bring some country flair to someone's home.Rustic and Country takes the harsh steel of the horseshoes and creates a warmth and uniqueness only found through Rustic and Country's care and love with what they do. Each letter and each sign are handcrafted with care allowing that no two signs are ever identical.
Inspired by rural country living mixed with ranch life and those who wish to leave the chaos of the city for a simpler life and those who already have, Rustic and Country knows that everyone's homes can enjoy the highlights no matter where they live. Whether you're country folk or just love horseshoe décor, these horseshoe signs can be appreciated by everyone. From being a cowgirl or cowboy to having a love of summer stargazing after a day at the rodeo, this collection encompasses summer in the county in a refreshing new light.
About Rustic and Country
Rustic and Country creates a one-of-a-kind rustic horseshoe décor for all the country loving homes. After moving to the country with her farrier and horse trainer husband, Aja, who had always been an artist, felt newly inspired in the peaceful mountain surroundings and horses and decided to dive into a new art medium of horseshoes. The small home based company started in 2013 honing in on the much sought after horseshoe décor motif. Proudly made in the USA. 
Note: For more pictures and information contact Aja Carter at Info@rusticandcountryhorseshoes.com
Contact Info
Aja Newton-Carter
Info@rusticandcountryhorseshoes.com
Source: Rustic and Country
---
Categories: Business News, Interiors and Decoration, Decorating
Tags: country home decor, handcrafted, home decor, horseshoes, ranch decor
---