Donor Network West Welcomes New Executive Leadership Team Members
Press Release
-
updated: Aug 17, 2020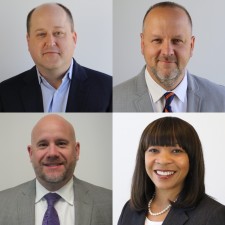 SAN RAMON, Calif., August 17, 2020 (Newswire.com) - Donor Network West, the federally designated organ procurement organization for Northern California and Northern Nevada, welcomes four new members to its executive leadership team to further its mission to save and heal lives through organ and tissue donation for transplantation and research.
"As the second-largest organ procurement organization in the United States, serving more than 13 million people across 45 counties in Northern California and Northern Nevada, there is a significant amount of work that happens to connect our donor's gifts to the more than 100,000 men, women and children waiting for a life-saving organ transplant," said Janice F. Whaley, CEO of Donor Network West. "Each of the individuals joining our executive leadership team brings tremendous experience in the organ and tissue recovery industry or their specific area of expertise. I believe that their contributions will help Donor Network West reach new heights as we work towards a world where there is no longer a wait to receive an organ transplant."
Jeremy Gimbel, Chief Financial Officer
Jeremy joined as Chief Financial Officer (CFO) in May 2020. Gimbel is responsible for the organization's financials including accounting, audit, budgeting, financial planning and analysis, and fiscal reporting. Gimbel earned a Master of Business Administration (MBA) from the University of Southern California and is an active Certified Public Accountant (CPA) and Senior Professional in Human Resources (SPHR).
John Lilley, Vice President of Organ Operations
John Lilley joined as the Vice President of Organ Operations in May 2020. John joined California Transplant Donor Network (CTDN, now Donor Network West) in 2001 as the first non-RN Clinical Procurement Coordinator. John advanced his career in the role of Supervisor and Manager of Clinical Services all while obtaining his Bachelor of Science in Nursing degree at the University of Nevada, Reno. In 2018, he returned as Regional Director for Nevada.
Kyle Kinsey, Vice President of Tissue
Kyle Kinsey joined as the Vice President of Tissue in May 2020. With more than 20 years of experience in the tissue donation field, Kinsey was most recently the Director of Tissue Recovery Services at Midwest Transplant Network. He has obtained several professional awards throughout his career including the CryoLife President's Award three years in a row.
Lauren Macmadu, Vice President of Marketing and Communications
Lauren Macmadu joined as the Vice President of Marketing and Communications in July 2020. Previously, Macmadu was the Director of Marketing and Communications at Anova. She received her Master of Science in Integrated Marketing Communications from Golden Gate University and her Bachelor of Arts in Mass Communications from the University of California at Berkeley.
Donor Network West serves 175 hospitals within 120,000 square miles. The nonprofit organization works in partnership with families, doctors, nurses, more than 500 funeral homes, and 44 coroners and medical examiners to connect donors to recipients. To learn more about organ and tissue donation, or to register as a donor, visit your local DMV or DonorNetworkWest.org.
Source: Donor Network West
Share:
---
Categories: Healthcare and Medical News
Tags: Donor Network West, Organ Donation, Tissue Donation
---