Dongcheng Electronic: Smart Lockers Supplier Helped Usher in Touchless Package Delivery During the Pandemic
Press Release
•
updated: Oct 9, 2020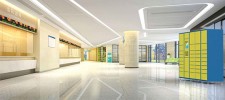 HANGZHOU, China, October 9, 2020 (Newswire.com) - The Covid-19 pandemic has had at least one positive effect on Dongcheng Electronic's business. Distributors of Dongcheng Electronic can now safely provide their users with a solution to receive and send packages without signatures or other human interaction.
The pandemic saved the trouble of signature aspect, as shipping companies and couriers can drop the requirement to keep physical distancing. But smart lockers help them to deliver quickly and store packages safely until users are ready to pick them up.
"Our technology of cloud computing and Internet of things ensure the safety and convenience of smart lockers," said the president of Dongcheng.
The infrared light sensor in the parcel lockers can detect when a package is put in, and then lockers are sent a text message or email to tell the recipient that their packages are waiting for them. Reversely, users can put their packages into an empty locker and then alert carriers that packages are ready for pickup.
To open the locker slot, the recipient needs to scan a QR code or sometimes enter a PIN from the message or email. This contactless delivery helped this industry run normally in the pandemic, allowing online shopping available even in the worst months, which now has become a hit for enterprise clients.
"It's perfect for companies to have touchless package delivery, safe and fast, even better than before," Dongcheng says.
The smart lockers developed by Dongcheng Electronic are designed with cloud-computing and Internet of Things technology. With over 100 experts in R&D department specializing in hardware and software engineering, the company is capable of manufacturing 20,000 sets of smart lockers annually. "We are planning to end door to door delivery and shape a community mailboxes," Dongcheng said.
Dongcheng Electronic has helped usher in the delivery industry leading to the birth of now-ubiquitous services like parcel lockers, refrigerator lockers (keep food cool), and even facial recognition lockers, providing a transformative new way for the logistics industry as well as shop owners and online stores. In China, Dongcheng Electronic has long worked with Alibaba, China Post, JD, etc, offering countless smart lockers to Chinese. And things are also unfolding nicely abroad.
In talks with some commercial property developers, Dongcheng Electronic believes smart lockers can play a critical role in a post-pandemic world.
"It's common that couriers do not need to enter the building contained smart locker system," says Dongcheng Electronic. "For new buildings, this would be a standard feature, not a unique one."
However, the demand for smart lockers was getting lower than before the pandemic, and the competition in this market is still fierce. Dongcheng Electronic has its business all over the world but this also means it faces different issues in different countries. Plus, few building managers will install more than they have to, meaning locker providers with their unique interoperability to carriers are more likely to win.
Source: Dongcheng Electronic