Donated Medical Supplies Leave New York for Wuhan
Press Release
•
updated: Feb 13, 2020
​The Afya Foundation Sends Personal Protection Equipment (PPE) to China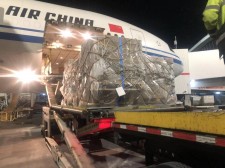 NEW YORK, February 13, 2020 (Newswire.com) - The Afya Foundation, in partnership with New York-based Foremost Group and the Hubei Charity Federation in Wuhan, China, is sending urgently needed medical supplies, including Personal Protection Equipment (PPE) such as masks, gloves and gowns to support the victims and medical professionals who are caring for patients infected by the corona virus, and battling to prevent the spread of the disease.
Foremost Group CEO Angela Chao facilitated the connection between The Hubei Charity Federation and the Afya Foundation to help the two entities send urgently needed medical supplies to hospitals in Wuhan. CEO Angela Chao lauded The Hubei Charity Federation and the Afya Foundation for helping those victims and caregivers who are caring for victims of the virus and fighting to prevent its spread. "Both these charitable organizations are helping to meet critical needs in Wuhan and are setting an inspiring example for others to follow. We at Foremost Group are happy to support their efforts." AFYA Foundation CEO Danielle Butin said: "We are extraordinarily grateful to Foremost Group CEO Angela Chao and Foremost Foundation for their invaluable assistance in facilitating this humanitarian work."
Afya is a unique medical supply recovery organization (MSRO) that collects surplus medical supplies throughout the United States and ships these critical materials worldwide. A regional network of medical suppliers, volunteers, and donors enables Afya to meet immediate urgent humanitarian and medical needs. Since its founding in 2008, Afya has recovered and shipped more than nine and a half million pounds of donated supplies to more than 83 countries.
"We have years of experience responding to crises worldwide and can help here, along with our significant product donor network, who are eager to help in any way possible. We are doing what we do well - responding thoughtfully to urgent needs by delivering practical solutions and products," said Danielle Butin, M.P.H., O.T. R., founder and executive director of the Afya Foundation. "It is our honor to support the tireless work of the Hubei Charity Federation in Wuhan, China."
For more information on Afya Foundation, please go to www.afyafoundation.org.
Source: Afya Foundation