Dollamur Sport Surfaces Celebrates 25 Years of Innovation and Growth
Press Release
•
updated: Feb 19, 2021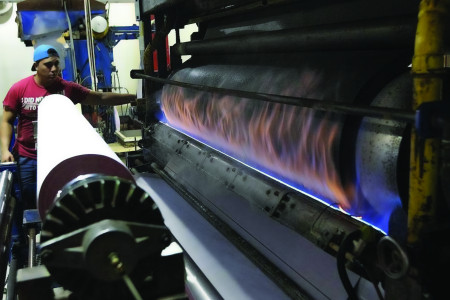 FORT WORTH, Texas, February 19, 2021 (Newswire.com) - Dollamur Sport Surfaces (Dollamur) - the world's leading manufacturer and distributor of high-performance sport surfaces - celebrates 25 years of providing world-class athletic mats to facilities and competitions globally. Dollamur began in 1996 manufacturing wrestling, gymnastics and cheerleading mats and throughout the years innovation in mat design and technology to provide numerous indoor sports the highest-quality, best-performing and safest surfaces possible.
Dollamur made major strides in the sport surfaces industry in 2000 when it developed and introduced FLEXI-Roll® technology, a series of precision cuts in light-weight foam that made moving and rolling-out mats much easier. Gone were the very heavy mats that required an entire team of workers to move it.
In 2009, Dollamur unveiled its patented FLEXI-Connect® system, a built-into-the-mat hook and loop system for connecting adjoining rolls, creating a seamless mat surface. The FLEXI-Connect® system allows the connection of multiple rolls without the need for tape, which eliminates the significant expense of taping mats, saving customers thousands of dollars each year. As the demand for high-quality mats grew in the Martial Arts industry, in 2008 Dollamur purchased Swain™ Mats - traditional judo mats designed and developed by Mike Swain, World Judo Champion and 4-time Judo Olympian.
As the need for sports mats grew around the world, Dollamur established and opened Flexi-Roll® Sports in China in 2010 to meet the fast-growing demand in worldwide competitions and events.
"Our growth and our world-class leading position in the sports surface industry only could have been achieved through our commitment to innovation and mat technology," said Don Ochsenreiter, President & CEO of Dollamur. "Our unwavering commitment to our best-in-class manufacturing processes and customer service has driven our success and will be the basis for our continued growth," he added.
Dollamur made a commitment to providing the highest-quality training surfaces across multiple sports including Wrestling, Martial Arts, Fitness, Cheerleading, Gymnastics and Yoga. As these sports developed, Dollamur incorporated smooth vinyl, tatami vinyl, carpet, sport turf and rubber tiled flooring into the product lineup. With experts on its staff including multiple athletes, Olympians and enthusiasts, Dollamur developed specialized sport surfaces to meet the needs of each segment, such as slip-resistance and low-profile tatami to reduce burns and durability.
The team at Dollamur is honored to have been trusted by customers from over 90 countries around the world for the past 25 years. By supporting athletes, schools, sports clubs, gyms, competitions and events, Dollamur earned the privilege of being named the Official Mat Sponsor/Provider for athletic organizations such as USA Wrestling, USA Judo, United World Wrestling, FloSports and many other leading organizations in the sporting world.
About Dollamur
Based in Fort Worth, Texas and established in 1996, Dollamur Sport Surfaces is the leading global manufacturer and distributor of high-performance competitive sports flooring for wrestling, martial arts, MMA, gymnastics, cheerleading, fitness and other sport activities. Innovative, proprietary products and a commitment to technological advancements in production have enabled Dollamur to set new industry standards for the sport mat industry. Dollamur mats are the preferred choice in hundreds of top-level sports competitions, including many national championships and Olympic-qualifying tournaments each year throughout the United States, Canada, Europe, Africa, South America, Asia and the Middle East.
Source: Dollamur Sport Surfaces
Related Media