Dog Products Deals Sells Quality Pet Supplies at a Discount
Site offers what puppies and dogs need for long, healthy lives
Press Release
-
Mar 22, 2016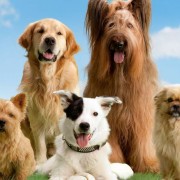 Sun Praire, Wisconsin, March 22, 2016 (Newswire.com) - A new site, Dog Products Deals, offers pet owners access to high quality pet supplies at lower prices.
The site offers a wide range of supplies for pets, including medicine, toys, food, treats, leashes and grooming products. Products like dog beds come in a wide variety of types, ranging from simple pillows to a heated bed that can be used outdoors. The site stocks a wide range of health supplies, as well, from poultry-flavored toothpaste to nutritional supplements to flea and tick prevention and treatment.
"We know that a dog is more than a pet, it's a member of the family. They offer companionship and love, and owners want to give them the very best. That's why we're offering brand name products at more affordable prices, so owners can spoil their dogs and not break the bank."
Toys available range from simple balls with which to play fetch to specialized toys designed to test a dog's intelligence by requiring the dog to roll a ball a certain way in order to get a treat.
"We understand how important dogs are to their owners," Geisler said. "It is our personal mission to ensure that other dog lovers like us have access to all of the best dog supplies to ensure they live a happy, long, and healthy life."
More information is available at http://dogproductsdeals.com/.
Share:
---
Categories: Pets
Tags: Dog Beds, Dog Toys, Grooming
---