DM3D Technology Enters Machine Building Business With Sale of DMD105D
Press Release
•
updated: Nov 15, 2017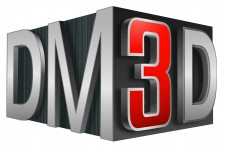 AUBURN HILLS, Mich., November 15, 2017 (Newswire.com) - DM3D delivered its first commercial machine system to China to be used for tool repair applications using its patented direct metal deposition (DMD®) additive process. DM3D also recently signed a Collaboration Agreement with Jingjiang Sanpeng MouldTechnology Co., Ltd., (JJSP).
Since its inception in 2013, DM3D Technology has focused primarily on commercial applications with large innovative companies using its proprietary AM process known as DMD® which is a directed energy process using lasers and powdered metals to 3D print components or repair parts. DM3D builds additive machines for internal use within its AM service technology business but is now marketing DMD® machines to companies with AM needs using its direct metal deposition process.
Mr. Li, President of JJSP, stated that "China has many opportunities for the DMD® process and hopes that this machine will be the first of many within the region and looks forward to working with DM3D more closely on commercial applications."
Dr. Bhaskar Dutta, CEO of DM3D, had this to say regarding the company's expanded approach to customer service, "We work with customers every day on specific application solutions for their particular business. Once we perfect the production environment for these solutions, many times the next logical step for the customer is to put a DMD machine within their facilities. So it only made sense for DM3D to more actively promote the sale of DMD Machines."
DMD® has several unique capabilities when compared to the current Additive Manufacturing (AM) landscape.
The DMD® process can 3D print mid to large size parts.
The DMD® process has multi-material capability which can deposit dissimilar powder metals or blends for unique specific applications.
The DMD® process can repair parts such as tools or aerospace components using our catalog of proprietary multi-material recipes and processes.
The DMD® process can provide surface treatment technology using the same catalog of proprietary recipes and processes.
Finally, DMD® machines can be custom designed and configured to meet the very specific needs of our customers and can even be integrated into customers' own unique production processes.
You can read more about DM3D machines on their website at www.dm3dtech.com.
Contact:
DM3D Technology, LLC
+1.248.409.7900
info@dm3dtech.com
Source: DM3D Technology, LLC
Additional Links