DIY Wood-Fired Outdoor Brick Pizza Ovens Are Not Only Easy to Build - They Add Incredible Property Value
Press Release
•
updated: Jun 13, 2018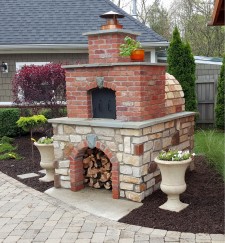 LYNDEN, Wash., June 13, 2018 (Newswire.com) - One of the biggest misconceptions about wood-fired outdoor pizza ovens is the cost. While landscape contractors and masons routinely quote custom-built brick ovens in the same ballpark as a gently used 4x4, the truth is, building an outdoor pizza oven from locally sourced construction materials is actually quite inexpensive. Cinder block is cheap, concrete and mortar are cheap, bricks are cheap … and almost all the building materials can be found at the local big-box hardware store. The biggest investment in building a DIY wood-fired outdoor pizza oven from BrickWood Ovens is time – typically three weekends.
Now, before running to Google and typing DIY Pizza Oven or How to Build a Pizza Oven and viewing endless pages of wood-fired ovens made from empty beer bottles, mud and straw, be aware that there is a science to building a properly performing DIY outdoor pizza oven (and it doesn't involve mud or beer bottles). First and foremost, when building a DIY pizza oven, the oven depth, height, width and chimney placement must be precise for proper air-flow. Second, the use of high-temperature refractory materials that are designed to withstand temperatures in excess of 1,200 degrees is required. Following these two simple rules will ensure the homemade pizza oven's performance and longevity well into the year 2222.
I love listings that feature an outdoor wood-fired brick pizza oven. Pizza ovens not only add a monetary value to the listing price of a home, but they also make the properties memorable for those shopping for a new home - especially for buyers that like to cook or entertain outdoors.

John Irion, Real Estate Agent - RE/MAX
BrickWood Ovens has taken the mystery out of building a DIY pizza oven. They offer four different types of DIY outdoor pizza oven kits and each kit comes with a set of easy-to-follow pizza oven plans that detail every step of the construction process. Even with zero masonry experience, by following their highly illustrated and overly detailed installation instructions, hosting a pizza party in less than a month can easily become a reality.
Their most popular DIY pizza oven kit on the market is the Mattone Barile series oven form. It's based on a 4,000-year-old design – the half barrel. Since the dawn of man, the barrel-shaped oven has cooked vegetables, meats and breads using clean-burning firewood. BrickWood Ovens manufactures a perfectly sized barrel-shaped foam form that allows the oven builder to simply place fire brick between pre-marked ridges on the form then mortaring the fire bricks into place with high-temperature mortar. Once the mortar is dry, simply remove the foam form and finish the oven exterior.
The second most popular DIY pizza oven kit is the dome-shaped Mattone Cupola. This style of oven is identical to those expensive pre-fabricated ovens that sit in the backyards of million-dollar-homes but at a fraction of the cost.
This style of oven features a low, dome-shaped ceiling for evenly angled convection cooking/baking and since it's made with thick castable refractory, the oven can hold its heat for days. But what makes this oven a DIYers' dream project is the fact that this oven can be built in just two hours! Simply pour and pack locally purchased Castable Refractory into the Mattone Cupola foam mold, cover and let dry for five days. After five days, remove the foam and finish the exterior of the oven.
New this year is the BrickWood Box – a DIY wood-fired meat smoker, BBQ, pig roaster, rotisserie, fryer and bread/pizza oven that is being billed as "The World's Most Versatile, Longest Lasting, Outdoor Cooking System." Unlike today's disposable BBQs and smokers, the BrickWood Box is made with insulated brick and block and all the cooking components are made in the USA with extra-thick stainless steel. It's another DIY oven kit from BrickWood Ovens that will be around in the year 2222.
BrickWood Ovens owners are passionate about their ovens too. BrickWood Ovens owner Catherine Claridge explains, "You would be surprised at the amount of emails we get from customers stating that they hired a fork-lift to move their existing oven to a new home. And many of our repeat buyers tell us that when they sold their home, part of the agreement was the wood-fired oven stays with the house. We've also received several emails from customers that stated their $1,500 pizza oven was appraised at $8,000 or even $10,000 during the appraisal process."
"I love listings that feature an outdoor wood-fired brick pizza oven," states John Irion, a RE/MAX real estate agent in Lynden, Washington. "Pizza ovens not only add a monetary value to the listing price of a home, but they also make the properties memorable for those shopping for a new home - especially for buyers that like to cook or entertain outdoors."
On the other end of the spectrum, several customers have built a low-cost BrickWood Oven just to sell a home. Mesa, Arizona, resident Fred Lewis attributes his backyard pizza oven to the success of selling his golf course home. "In 2011, you couldn't give away homes in Mesa. We had our home on the market for over a year and only had two quick showings. My son suggested we build an inexpensive pizza oven to boost the home's curb appeal. We purchased a barrel-shaped pizza oven kit from BrickWood Ovens and all the construction materials locally from Marvel Materials and built our oven in three weekends. Two weeks after the oven was completed, we had an offer on the house. The buyer's agent told us the family that bought our home always referred to our home as 'the pizza oven house,' so yeah, that oven sold our home."
Keep in mind, adding value to the home doesn't always mean monetary value. It also means the value of cherished family memories. BrickWood Ovens promotes involving everyone in the construction of the family-friendly pizza oven project. The time spent with kids, grandkids or even grandparents in the construction of the family oven is a priceless treasure everyone will remember. In addition, the basic masonry skills learned while building the pizza oven will last a lifetime.
To learn more about BrickWood Ovens' low-cost DIY Pizza Oven kits and their 4.9 out of 5 stars BrickWood Ovens Review rating, please visit BrickWoodOvens.com. Be sure to visit the BrickWood Ovens Photo Gallery, a showcase of thousands of customer-submitted photos and videos of BrickWood Ovens in various stages of construction.
Media Contact:
Kevin Claridge
Phone: 360.635.5500
Email: Sales@BrickWoodOvens.com
Source: BrickWood Ovens
Related Media
Additional Links