DIY Star Chip Wade Shares Spring DIY Home Inspirations on TipsOnTV
Press Release
•
Apr 12, 2023
TV Host and Home Improvement Expert on Innovative and Affordable Ways to Give Homes a Refresh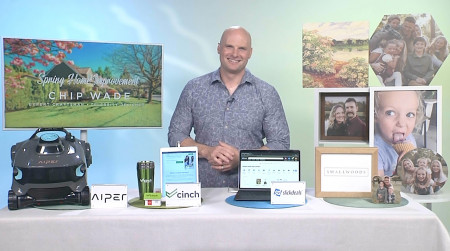 ATLANTA, April 12, 2023 (Newswire.com) - Spring is the perfect time for homeowners to tackle all those home improvement projects, getting ready to break out of a pandemic and make a change. In fact, creating a beautiful and comfortable living space has become a national obsession, according to TV host and DIY expert Chip Wade. Here are some suggestions for some affordable DIY improvement ideas and products to upgrade the home.
FIND THE BEST DEALS
Whether tackling a large or small project, here is a tip that will improve everyone's wallet: start by visiting Slickdeals, a community of millions of real people working together to save. It is all about shoppers helping shoppers. Slickdeals has 12 million shoppers vetting and voting up the very best deals from everyone's favorite retailers, so anyone can find deals on everything from tools to bathroom vanities, and actually get the best product at the best price. Hundreds of deals are posted and vetted every day, so check Slickdeals regularly to not miss out. For more information, visit www.Slickdeals.com.
PROTECT YOUR INVESTMENT
It starts with protecting the home. Cinch Home Services makes home management easy by covering repair and replacement of the home systems and appliances that you use daily, leaving more cash in those pockets and giving everyone peace of mind to care for the bigger things in life. Investing in a Cinch home protection plan could save thousands in unexpected, and often expensive, repairs and replacements of home systems and appliances. Plus, Cinch has 45 years of proven experience. Check them out at CinchHomeServices.com.
SOMETHING UNIQUE FOR THE HOME
Spring is the perfect time to refresh any space with frames and wall decor. A top tip here is Smallwoods, a thriving, family-owned business with a focus on providing quality, affordable custom home décor. After 10 years and 50 million images, Smallwoods has 3 million happy customers. Personalize art, print a favorite quote, or create a gallery wall in minutes; it is easy to create custom canvas prints and fan favorites like custom wood-framed prints. Check out the great options on smallwoodhome.com and get 20 percent off!
SPRING TO-DO LIST
It is time to get the pool ready. A top pool tip is the Elite Pro, a new innovative, cordless robotic pool cleaner from Aiper. The Aiper Elite Pro is a powerful, elevated, and easy-to-use cordless robotic pool cleaner that will suck up all the gross debris off the pool floor and walls to spend less time cleaning and more time enjoying fun with family and friends poolside. Experience the Aiper lifestyle and bring vacation home today by letting the Elite Pro handle the dirty work. Elite Pro charges like a cellphone, and for a Spring deal, save $150 dollars by using the code AIPER150 at checkout on Aiper.com.
About TipsOnTV
TipsOnTV is a lifestyle blog featuring content as seen on national and local media outlets. Expert hosts share advice for viewers, listeners, and readers. TipsOnTV covers a variety of topics, including food, entertaining, personal finance, technology, travel, health, lifestyle and more.
Source: TipsOnTV