Diva International CEO Joins the Conversation With Women at the Forefront of the Menstrual Movement
Carinne Chambers-Saini joins vocal visionaries coming together to discuss period policy, menstrual equity and the smashing of period shame
Press Release
-
updated: Feb 26, 2018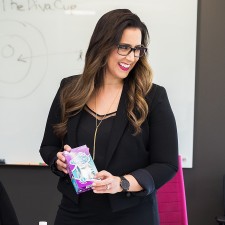 TORONTO, February 26, 2018 (Newswire.com) - Join the menstruation conversation! On March 6, 2018, Carinne Chambers-Saini, co-founder and CEO of Diva International, will be kicking off International Women's Day early by joining leading visionaries of the menstrual movement in Toronto for the panel titled Menstruation's Moment: Why period politics matter now more than ever. A local event by Mother Nature Partnership, this panel brings women at the forefront of the menstrual movement together to discuss the importance of period politics and menstrual equity.
Chambers-Saini lends her voice and passion to the conversation, as she hopes to empower women everywhere to co-create a new menstrual culture where the experience is anything but dirty or shameful.
"We need to eliminate the silence around menstruation to truly create FREEDOM for people who menstruate," says Chambers-Saini.
Carinne will be accompanied by Jennifer Weiss-Wolf, author of Periods Gone Public, the book Gloria Steinem says is "the beginning of liberation for us all." Additional panelists include Alyssa Bertram, CEO and founder of Easy. Period, Sabrina Rubli, founder and executive director of Femme International, as well as Madeleine Shaw and Suzanne Siemens, co-founders of Lunapads.
For Chambers-Saini, being a disruptor in an industry that is surrounded by silence and stigma is an opportunity to redefine what menstruation means for everyone, with comfort, health and sustainability in mind. Diva International's flagship menstrual solution, The DivaCup, leads the way in period care innovation by creating a better period experience tailored to meet each woman's individual menstrual needs.
Diva International is committed to providing menstrual care products and support throughout the world and works with several organizations. Since 2016, Diva International has donated over 8,000 cups to organizations around the world, valued at over $300,000. Recipients of product and financial donations include female firefighting groups, educational fundraisers, YWCA centers, Plan International, The Ali Forney Centre, Pads4Girls, Breath of Life Haiti, Period: The Menstrual Movement, New York Department of Homeless Services, Native Youth Sexual Health Network and Mom2Mom Africa. Diva International continues this support with a donation of 100 menstrual cups to this local event.
"When it comes to menstrual equity, the challenge of access to affordable and safe menstrual solutions is a key concern," says Chambers-Saini in reference to her line of Diva products. "We are responding to a growing need for industry innovation to solve the menstrual equity problem. Through product donations and the support of menstrual hygiene organizations worldwide, we are able to empower women to make informed decisions about their menstrual needs."
About Diva International Inc.
Established in 2003, Diva International Inc., founders Francine Chambers and her daughter Carinne Chambers-Saini developed The DivaCup to offer a reliable and more eco-friendly approach to feminine hygiene. The DivaCup provides the most convenient, clean and comfortable way to address period care while eliminating the need to buy and carry menstrual products in endless absorbencies, shapes and styles. Diva also invests its expertise and resources in educational, community and international organizations that offer empowerment through health care and menstrual health education worldwide. For more information, please visit divacup.com.
Website: divacup.com
Instagram: @thedivacup
Twitter: @thedivacup
Facebook: @thedivacup
For media inquiries, please contact:
Sophie Zivku
Communications Manager
Diva International
sophie@divacup.com
519-896-8100 x 206 | 1-866-444-3482 x 206
Source: Diva International Inc.
---
Categories: Beauty and Personal Care, Consumer Goods, Production and Manufacturing
Tags: Business Canada, DivaCup, Feminine Hygiene, menstrual equity, period politics, sustainability
---