Disability Group Inks Deal With Hollywood Heavyweight
Press Release
•
updated: Apr 23, 2018
RespectAbility and Norman Lear Center Unite to Help Hollywood Include People with Disabilities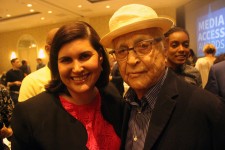 LOS ANGELES, April 23, 2018 (Newswire.com) - RespectAbility, a nonprofit organization fighting stigmas and advancing opportunities for people with disabilities, announces a new partnership with Hollywood, Health & Society (HH&S), a project of the USC Annenberg Norman Lear Center. The partnership will help educate, inform and support the success of the movie/TV industry in its work to ensure that people with disabilities are included on both sides of the camera in the stories that Hollywood tells. HH&S provides entertainment industry professionals with accurate and timely information for storylines on health, safety and national security. Both RespectAbility and HH&S recognize the profound impact that entertainment media have on individual knowledge and behavior – ultimately impacting society and lives at large.
Positive, accurate portrayals of people with disabilities on TV and film play a role in decreasing stigma that prevents people with disabilities from gaining employment. Indeed, the partnership starts as new data reveals that 343,483 more people with disabilities joined the American workforce in 2016. This compares to only 87,201 in 2015. RespectAbility is on the front lines of enabling people with disabilities to achieve employment.
Visibility and representation matters. We know that accurate and positive portrayals of diverse people with disabilities will not only empower and educate viewers and program creators but will ultimately lead to a more inclusive, responsive and healthier society.

Jose Plaza, The California Endowment
In addition to partnering with HH&S, RespectAbility recently launched The Hollywood Disability Toolkit: The RespectAbility Guide to Inclusion in the Entertainment Industry to help entertainment professionals who wish to ensure they are as inclusive of people with disabilities as possible.
With Hollywood striving to boost diversity and inclusion, opening the inclusion umbrella for America's largest minority – the one-in-five Americans with a disability – is the right thing to do as well as economically smart given that the disability market is valued at more than $1 trillion, according to Nielsen Research. The success of films like Black Panther, Wonder Woman and Coco prove that diversity wins. Fully 1.2 billion people on earth have a disability.
The creation of this partnership and the toolkit would not have been possible without the financial support of The California Endowment. "Visibility and representation matters," said Jose Plaza, who manages the grant for The California Endowment. "We know that accurate and positive portrayals of diverse people with disabilities will not only empower and educate viewers and program creators but will ultimately lead to a more inclusive, responsive and healthier society."
Media Contact:
Lauren Appelbaum
Email: LaurenA@RespectAbility.org
Source: RespectAbility
Related Media
Additional Links