Dillanos Coffee Roasters Acquires Eastern Washington Based Avalanche Distributing
Press Release
•
Apr 26, 2022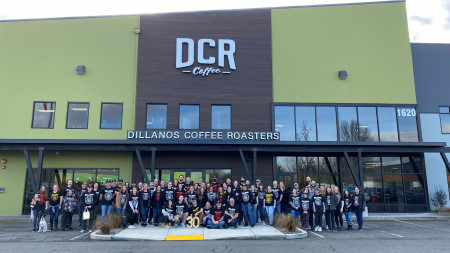 SUMNER, Wash., April 26, 2022 (Newswire.com) - Dillanos Coffee Roasters, a leader in the coffee industry since 1992, has officially completed the acquisition of Avalanche Distributing in Zillah, WA. The investment in Avalanche gives Dillanos the ability to move forward with their expansion plans to reach a wider direct delivery area in their home state. Dillanos has been selling freshly roasted coffee to some of the largest independently owned cafes and drive-thrus nationwide through UPS and FedEx. They are excited to continue toward their goal of delivering directly to more customers with their delivery trucks. In addition to being a business-building partner to cafes and drive-thrus, Dillanos has built a large online retail presence, shipping coffee directly to consumers.
"Avalanche is a perfect fit for us and will help us further achieve our mission statement of Help People, Make Friends, Have Fun. They are an excellent culture fit, and it complements our current product offering and business model," stated David J. Morris, Co-CEO of Dillanos Coffee Roasters.
"This is an exciting growth opportunity for all employees, our customers, and our supply partners," said Chris Heyer, Co-CEO of Dillanos Coffee Roasters. "We are elated to be taking this step during our 30-year anniversary celebration."
Wanda Fergus stated "Our family is thrilled that Dillanos Coffee Roasters is the company to acquire Avalanche. As our family prepares for life after work, we couldn't have left our business in better hands."
The company will initially continue to operate as Avalanche Distributing. After a transition period, Avalanche will become Dillanos Coffee Roasters- Zillah.
About Avalanche Distributing
Avalanche Distributing is a Zillah, WA-based company that has served the greater Yakima Valley since 1998 when Dave Fergus started the company by distributing candy to vending machines. Since then, Avalanche has grown into a well-known and respected coffee supply, roasting, and bakery company in the heart of Zillah. Although Dave is no longer with us, his wife Wanda has carried on with the support of the family and Dave's two brothers Dick and Don. Avalanche and DCR have been friends in the industry for years.
About Dillanos Coffee Roasters
With a passion for entrepreneurship and a drive for success, David Morris set out on a venture and founded Dillanos Coffee Roasters. Dillanos, named after his oldest son Dillon, opened as an espresso cart in 1992 in front of the well-known Sunshine Mart, a convenience store located in Buckley, Washington. The Sunshine Mart, which still stands today, was owned and operated by Howard Heyer, David's stepfather. Howard, or Howie as many called him, took a chance with David and his coffee cart and the two developed a business partnership.
In 1994, David's brother, Chris Heyer, joined the family business at the age of 19 and bought into the company as a third owner. Chris had worked as an experienced barista at a coffee cart outside of a local grocery store. Together they kicked off Dillanos Coffee Roasters as a wholesale coffee roasting operation. It wasn't long before the brothers were soaking up information from coffee professionals throughout the country. They learned from the ground up what it takes to source high-quality green coffee, perfect nuanced roast profiles, and create balanced, smooth-tasting blends.
Today, Dillanos Coffee Roasters employs more than 100 enthusiastic staff members and roasts for some of the country's most recognized specialty coffee brands.
Dillanos Coffee Roasters www.dillanos.com
Contacts
Public Relations pr@dillanos.com
Source: Dillanos Coffee Roasters