Digitrust Corporation Launches Willtoken for Automatic Transfer of Crypto Assets to Legal Heirs
Digitrust Corporation launches Willtoken for secure transfer of crypto assets to chosen beneficiaries. Looking at these articles below, one cannot help but wonder if an existing problem in the crypto world today.
Press Release
-
updated: Jun 7, 2018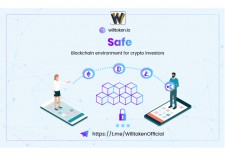 SINGAPORE, June 7, 2018 (Newswire.com) - Digitrust Corporation Pte Ltd, a decentralized organization based in Singapore, has launched a new cryptocurrency called Willtoken. It is a utility token used for beneficiary assignment services via digital and blockchain platform to the worldwide crypto investment community.
Death or disability is a natural phenomenon. There are numerous uncertainties with regard to the transfer of assets to the right person after these events. Around 0.7% of investors pass away every year on an average. This is almost 700,000 deaths per year for every 100 million investor community worldwide.
Currently, fear of losing wealth due to hacking, the filing of false claims by unknown entities, manipulation of ownership and unauthorised access as well as wealth being lost in transit are the biggest concern for any crypto investor. In this trust less world, Crypto Investors want to avoid giving away secret keys and passwords to an unknown party.
We understand these major concerns thus the creation of the Willtoken by Digitrust Corporation is based on full automation with no third party interference. The best part is, there is no requirement to assign any passwords or private keys. It is an inheritance protocol that allows a secure and self-managed environment for the investors to safely pass on their assets to their chosen recipients.
About Willtoken
A Digitised and secure crypto testament is put in place by the crypto investor with clear instruction to exchanges and wallet recipients on how to transfer wealth directly to the heir's wallets. Beneficiaries will be able to receive the funds without hassle after fulfilling system requirement, authentication, and verifications. Willtoken is a utility token that is used as payment for the wealth assignment service. It is also exchangeable and used like any other coins in the market today.
Crypto‑Will is an official legal document in which an investor expresses his desire as to whom and how his crypto assets should be transferred to after his demise. It includes details and instructions regarding legal heir, trusted persons, beneficiary verification. It automates the transfer of assets directly from exchanges and wallets to the beneficiary. The system is highly encrypted and confidential information is kept hidden in cold storage from prying eyes until it is time to activate the claim.
Will System provides assignment of beneficiaries, identification of death or disability, conducts pulse search, deep search and establishes proof of death, it confirms the existence of claim and files a valid claim to the exchange and wallets via an automated artificial intelligence application. It handles the task of assets transfer to the beneficiary through an automated process without any interference. The entire process is executed seamlessly using the latest blockchain technology, applied artificial intelligence, and hyper ledger.
Investors want to assign their beneficiaries, exchanges want a systematic, independent and secure claim and transfer protocol, thus, Will Token solution is indeed a much-welcomed relief to the crypto investor community,
Willtoken Crowd Sale
Will Token rollout plans and services are clearly outlined on their website https://willtoken.io and public sale – Stage 1 is currently active until 15 July 2018.
Details of Will Token are as follows:
     1 Willtoken = 0.10 USD
     Tokens available for sale: 250,000,000 (For Both Stage 1 & 2)
     Willtoken Protocol: Ethereum ERC20
     Buy using Cryptocurrency: BTC / ETH
     No Minimum Contribution
Visit the Website: https://willtoken.io
Read the Whitepaper: https://willtoken.io/WhitePaper.pdf
Watch on YouTube: https://www.youtube.com/channel/UCX9M_NU4fjMD89KuN7nuojA
Meet the Team: https://willtoken.io/#team
Media Contact
Name: Sasidharan
Email: sasi@digitrustcorp.com
Digitrust is the source of this content. Virtual currency is not legal tender, is not backed by the government, and accounts and value balances are not subject to consumer protections. Cryptocurrencies and tokens are extremely volatile. There is no guarantee of a stable value, or of any value at all. Token sales are only suitable for individuals with a high risk tolerance. Only participate in a token event with what you can afford to lose.
Source: Digitrust
Share:
---
Categories: Business Technology
Tags: Bitcoin, crypto-currencies, Cryptocurrencies
---