Digital Marketing Wisdom Unleashed: Three New Performance Delivered Podcasts Released
Digital Marketing Experts Steffen Horst, Dave Antil, Daniel Heale, Jeff Rosenblum and Chris Raniere Offer the Best in Industry Analysis and Insider Knowledge
Press Release
-
updated: Dec 4, 2018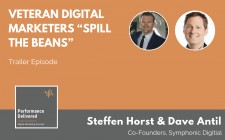 WOODLAND HILLS, Calif., December 4, 2018 (Newswire.com) - Symphonic Digital has launched their new podcast, Performance Delivered, with three new episodes now available. This series offers unique takes on marketing in the digital age and features industry experts who have achieved success through unorthodox approaches. It's targeted at executives and agency owners who face challenges arising from the evolving digital marketing landscape.
Podcast hosts Steffen Horst and Dave Antil, refugees from the big agencies, have instructive insights to help agencies stay competitive at a time of drastic change for the industry.
Antil says, "It's exciting for us now, too, after spending years helping these big clients take advantage of these tools. We're now able to help smaller clients take advantage of some of these big tools, and we really like seeing the results and the performance — and the revenue flow — into these smaller clients."
Agencies will discover new approaches to vital elements of brand and digital marketing in the current landscape, the importance of performance marketing and how to be the first to get future episodes.
Episode 1 features Los Angeles-based Daniel Heale, chief strategic officer of Way to Blue. Heale has worked with the biggest movie studios in Hollywood and dealt with the unique challenges they face. This has placed him on the cutting edge of digital marketing. He outlines the elements beyond best practices and technology that an agency needs to stay ahead of the competition.
According to Mr. Heale, "Communications and marketing are fortunate enough to sit at the top table, and essentially, they are the key drivers of business success."
Learn about the moving targets that are marketing success benchmarks, how to form long-term productive relationships with clients, how small agencies can afford to deliver big campaigns, and strategies to attract and retain the best talent.
Episode 2 features Jeff Rosenblum, founding partner of digital marketing agency Questus. Starting as a true maverick and challenging common wisdom regarding research and marketing strategy, Mr. Rosenblum's star rose during the dot-com era. As a survivor of the crash, he is uniquely poised to demonstrate how to compete in lean times. He talks about how combining data with creativity can generate powerhouse targeted marketing that actually empowers audiences.
Working with "good" clients is important to an agency, and according to Rosenblum, "You can tell pretty early if someone is going to be a good client. … it's all about the relationship and the fit."
Rosenblum talks about how to compete against the world's biggest agencies, how to turn customers into evangelists, how to get paid what an agency deserves and when to say "no" to a prospective client.
In Episode 3, meet Chris Raniere, founder and president of San Francisco-based digital marketing agency 46Mile. Raniere has seen a lot since his days at early search engine Ask Jeeves and other companies of that era, but one constant is that many clients don't understand the value of work agencies do in paid search and other marketing channels and, as a result, try to lowball agencies when it comes to fees.
Raniere challenges that attitude and explains how he deals with potential clients who want to pay as little as possible, including avoiding the mistake of offering RFPs, where larger brands are headed and when not to back down on price.
"It's just shocking sometimes," Raniere says, "what the opportunities are."
About Symphonic Digital, LLC
Symphonic Digital, LLC, is a company founded and run by performance-driven marketing experts focused on the creation and delivery of results- and data-driven digital marketing campaigns for small to medium-sized businesses. They are leaders in digital marketing solutions and technology who offer a full range of digital marketing services, including paid and organic search, display and native advertising, social media marketing, conversion optimization and testing, Amazon advertising, analytics and reporting, ad opportunities and more.
To learn more, please visit http://symphonicdigital.com.
The Trailer podcast can be heard at http://symphonicdigital.com/podcast-trailer-veteran-digital-marketers-spill-the-beans
Episode 1, "Daniel Heale – Hollywood's Marketing Secrets," can be heard at http://symphonicdigital.com/daniel-heale-hollywoods-marketing-secrets
Episode 2, "Jeff Rosenblum, The Client That Will Transform Your Business," can be heard at:
http://symphonicdigital.com/jeff-rosenblum-the-client-that-will-transform-your-business
Episode 3, "Chris Raniere: Two Digital Marketing Trends to Watch," can be heard at:
http://symphonicdigital.com/chris-raniere-two-digital-marketing-trends-to-watch
Source: Symphonic Digital
---
Categories: Marketing
Tags: Brand Marketing, Digital Marketing, Digital Marketing Agency, Digital Marketing Services, Marketing Agency, Medium Sized Business, Small Business
---