Digital Dubai and Animoca Ventures Kickstart Collaboration With Exclusive Investor Workshop 'Reports From the Future: Dubai'
Press Release
•
Feb 16, 2023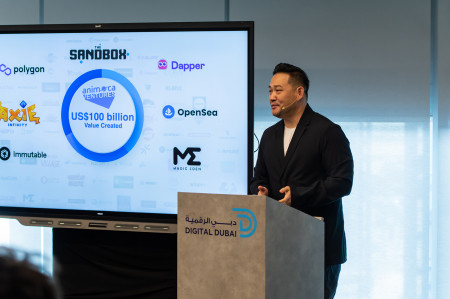 DUBAI, Arab Emirates, February 16, 2023 (Newswire.com) - Digital Dubai partnered with Animoca Ventures to co-host 'Reports from the Future : Dubai', an exclusive, invitation-only event for investors, held on 8 Feb. 2023 at the Digital Dubai Offices in Dubai Design District.
Digital Dubai is a government body established by His Highness Sheikh Mohammed Bin Rashid Al Maktoum, Vice-President & Prime Minister of the UAE, and Ruler of Dubai, in June 2021 to develop and oversee the implementation of policies and strategies that govern all matters related to Dubai's information technology, data, digital transformation, and cyber-security.
The event forms part of a wider collaboration between Animoca Ventures and Digital Dubai to bring top-tier Web3 talent to Dubai to showcase cutting-edge technologies and to create cooperation opportunities with Dubai-based organisations, companies and investors.
The event featured global founders from leading global companies renowned for their innovation and experience with Web3. They presented to a packed room of funds and investors, a range of topics surrounding Web3 and the opportunities it brings, including Web3 Infrastructure, Metaverse Use Cases, Blockchain Gaming, the Omni-Chain Future, Open Finance, and Data Convergence. It offered participants insights into Web3 and metaverse technologies, the potential they bring, and the promising investment opportunities in the sector.
Delivering the keynote address at the workshop, Dr. Marwan Al Zarouni, Strategic Advisor at Digital Dubai, said: "Digital Dubai is entrusted with the mission to digitalize every aspect of life for people in the emirate, making their lives easier and happier with advanced technology and Digital services. To that end, we take every opportunity to explore emerging technologies and partner with entities and companies who are making strides in these sectors, with the aim of bringing startups and investors to the city and making Dubai the digital capital of the world."
"The workshop we have joined hands with Animoca Ventures to organize is a significant step towards meeting these objectives and is poised to accelerate the Digital Economy ambitions of the Dubai Economic Agenda (D33), which strives to double the size of the emirate's economy over the next decade," Dr. Al Zarouni added. "The event also helps support the ambitious Dubai Metaverse Strategy, designed to turn Dubai into one of the world's top 10 metaverse economies, as well as a global hub for the metaverse community."
For his part, James Ho, Head of Animoca Ventures, delivered the closing remarks, saying: "This workshop brought together many of the most innovative companies in Web3 and imparted the best possible information and insights to our attendees. Animoca Ventures works at the forefront of ecosystem building and investing in Web3 and the metaverse. We see these technologies as driving the future of marketing, gaming, commerce, and many other sectors."
Attendees at the workshop, comprising of investors, were taken deeper into Web3 and the role it is set to play in the future with experts from a host of companies that have made notable innovations in the field. The companies were:
LayerZero Labs - An omnichain interoperability protocol that unites decentralized applications (dapps) across disparate blockchains.
SupraOracles - An interoperable and extensible data oracle solution enabling integration between on-chain and off-chain data.
Conductive.ai - Conductive.ai, a Web3 infrastructure company, which designed a product eliminating the friction of on-boarding users on to Web3 games and projects.
Brinc - A global tech accelerator with a strong presence in the MENA region, Brinc's platform offers a unique combination of resources for startups, corporates and venture capital investors to thrive across the entire startup lifecycle from accelerator stage to exit.
Move.ai - Move enables motion capture in any environment using off-the-shelf cameras, mobile phones, computer vision and deep learning, greatly reducing the cost of traditional motion capture methods.
Amulet Protocol - A decentralized insurance protocol, safeguarding users' assets.
Bit.Country - Offering Metaverse as a Service, where users can launch their own metaverse within 12 seconds. These metaverses come with built-in NFT marketplaces, tokens, a land economy, reward engine, 3D game engine, map engine, game framework and software development kit.
There were also senior representatives from blockchain gaming companies Xterio, Planetarium Labs, MetaKing Studios (for the game BLOCKLORDS), SIDUS Heroes, Revolving Games and The Red Village presented first looks at their games, explained what makes these games unique and showed exclusive gameplay footage.
Source: Animoca Ventures
Related Media
Related Files