Digital Dashboard Automation Gets a Personal Touch With DashThis
Press Release
-
updated: Feb 28, 2018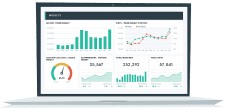 Québec City, Canada, February 28, 2018 (Newswire.com) - Automated digital dashboard tools have been cropping up consistently across many verticals, and the digital giants like Google are hard to miss. However, while the giants have the upper hand in terms of market share, the smaller DashThis is gaining ground this year for one important reason: people.
DashThis is a SaaS-business that enables digital agencies and brand marketers to create every client digital dashboard automatically, through one single web-based platform. Since its beginnings in 2011, DashThis has grown with the market. However, with big players competing for space through sheer technological prowess, DashThis has found their niche a little closer to home.
Where most of the competition seems to be battling it out to see who can one-up the other with more and more automated reporting features, DashThis has come to the realization that most users only need a few features, and they need those to be perfect." A lot of [our clients] are also frustrated with the lack of real help whenever they have a question about something. Let's face it, canned messages and online forums are the biggest pains of automation," says Philip Boumansour, CEO of DashThis.
For this reason, in 2018, DashThis is redirecting its focus through two key points:
To optimize and create ONLY the features that their type of users absolutely need… and to avoid complicating things further with superfluous features;
To capitalize on the fact that they're a small team by bringing human contact into the equation. DashThis is currently known as one of the best in the SaaS-business in terms of customer success and service. It only makes sense to bring this to the forefront of their selling points.
DashThis' dashboard creator was created for agencies and marketers who need to create digital dashboards easily, quickly, and for multiple clients. By foregoing the features that their users don't want and only find confusing, DashThis has created a simple and efficient tool that users love, because it gives them the time and brain-power that they need to do the rest of their work.
DashThis is taking this one step further this year, by changing their entire marketing and sales direction from one solely focused on software, to one focused on software and service simultaneously.
Every DashThis user has his/her own dedicated account manager at all times - a far cry from the standard Knowledge-Base-and-Forum type of client assistance that is standard in the industry.
While this has long been the case, DashThis is distinguishing itself from the competition this year by making the client service a key selling point at all levels of the sales funnel.
When we think of SaaS businesses nowadays, the first thing that comes to mind is just a software company that bills through monthly subscriptions. But what happened to the "service" part of the term SaaS? DashThis is a reminder that in this business, the "service" part is as important as the "software" part.
Source: DashThis
---
Categories: Business to Business, Marketing, Internet and e-Commerce
Tags: dashboard, data visualization, digital marketing, KPI, reporting
---