Didi Hoffman's New Book 'Beautiful Bodies: The Adventures of Malvina Hoffman' Tells the True Story of a Woman Known as 'America's Rodin,' Who Traveled the World in the Early 20th Century Inspiring Millions
Press Release
-
updated: May 10, 2018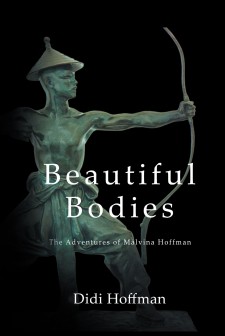 THOMASVILLE, Ga., May 10, 2018 (Newswire.com) - Didi Hoffman, a creative force to be reckoned with, has completed her most recent book "Beautiful Bodies: The Adventures of Malvina Hoffman":  an unbelievable story of a woman who destroyed boundaries to create lasting masterpieces and encourage those around her to reach for the stars.
Didi's passion for design, art, and writing intersected when her husband, Charles "Chip" L. Hoffman III introduced her to the incredible stories of his great aunt, sculptor Malvina Hoffman, in 2008.
Didi says, "I was intrigued by the visionary work of this early-twentieth-century hero. Inspired, I explored Malvina Hoffman's life and found a story I knew must be told."
Published by Fulton Books, Didi Hoffman's book is not a story about art. Although Malvina Hoffman was known as America's Rodin, her story is one of adventure, intrigue, and life among the greatest artists and power brokers during the early to mid-twentieth century. Every action Malvina undertook broke glass ceilings. She smashed through her fears to achieve the impossible, many times over. She was an inspiration to all.
Sculptor of the first rank in the twentieth century, Hoffman was a student and great friend of Auguste Rodin. She hid his works with him, in the basement of the Biron Hotel (Musée Rodin) before World War I, then went on to install the first Musée Rodin after Rodin's death. She won almost every award in sculpting in New York and Paris and was a household name. The indefatigable Malvina traveled the world and sculpted 105 life-size bronzes for the Field Museum in three years, creating a collection filled with life. The Hall of Mankind commission was a feat so extraordinary it may never be repeated. Over ten million people visited her exhibition at the Field Museum until it was dismantled in 1968.
Hoffman traveled around the world in 1931 to the deepest, darkest corners of the globe and brought history to life for many of the ancient cultures she sculpted. War, jungles, typhoons, freezing temperatures, radical surgery on her arm, and disease did not hamper Malvina's quest or success in this magnificent effort. She not only completed the close-to-impossible commission, but she gave life to the people she cast in bronze; she gave them a voice. No man or woman today could do the same body of work in only three years. Malvina Hoffman completed the Hall of Mankind on time and on budget. The financial success of the exhibition helped save the Field Museum during the economic depression in America. The scope was historic, greater than Rodin's Gates of Hell.
Included will be stories about her three aunts on board Titanic. Auguste Rodin plays heavily. She was his good friend and protégé. There are letters to and from many of the greatest artists and people of the day. This is an intimate portrayal of a woman of influence and talent who lived life by her own rules. Gertrude Stein, Ida Sedgwick Proper, and Paris in the early twentieth century are featured. Hoffman's relationship with ballerina Anna Pavlova, her muse, and dearest friend is explored. Pavlova and Hoffman collaborated for over fifteen years, and both helped each other in the business of their businesses. Both women were single, global entrepreneurs before women had the right to vote. Their friendship was tied together through their love of dance, art, and business, and together they created what was called a masterpiece: a twenty-six-panel bas-relief frieze of the Bacchanale ballet, which was only seen twice in its entirety.
Malvina Hoffman was and is an American treasure. It is time to bring her out of the basements of the greatest museums and back into her rightful place as American woman extraordinaire. Compelling and quick moving, Malvina Hoffman never rested, nor does the book.
Readers who wish to experience this inspired and unforgettable work can purchase "Beautiful Bodies: The Adventures of Malvina Hoffman" at bookstores everywhere, or online at the Apple iTunes store, Amazon, Google Play or Barnes and Noble.
Please direct all media inquiries to Gregory Reeves via email at gregory@fultonbooks.com or via telephone at 877-210-0816.
Source: Fulton Books
Share:
---
Categories: Books
Tags: Beautiful Bodies: The Adventures of Malvina Hoffman, Didi Hoffman, Fulton Books, New Books
---