Diacore Tracks Its Diamonds From Mine to Retail on De Beers-Led Industry Blockchain Platform, Named Tracr™
Press Release
-
updated: May 10, 2018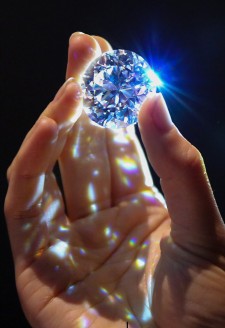 JOHANNESBURG, May 10, 2018 (Newswire.com) - As part of a pilot project led by De Beers Group, Diacore participated in tracking a selection of its large diamonds from mine to retail on the blockchain platform named Tracr™. An immutable digital 'trail' was created for a selection of rough diamonds sold by De Beers to Diacore, tracking the diamonds from the mine to cutter and polisher, then through to a jeweler.
Nir Livnat, Executive Chairman of Diacore, said, "We are happy to be part of this innovative project that will eventually be able to track our diamonds from their source to the end-consumer. Tracr is a bold initiative that will keep the diamond industry relevant in a digital world and will do wonders in boosting consumer confidence."
The platform is expected to launch later this year and will be open to the industry. Diacore is one of five leading diamond manufacturers that have been working with De Beers during the platform's pilot phase. Diacore have significant experience in the design and processing of large stones, which is the initial focus of the pilot, as well as broad coverage across the midstream of the industry.
How Tracr works
As the diamonds travel along the value chain, Tracr™ assigns each stone a unique Global Diamond ID and stores individual diamond attributes such as carat, colour and clarity through integration with the participants' existing ERP systems.
This allows the system to consolidate the data into an immutable, digital trail for each physical diamond, assuring its provenance and traceability from rough to polished.
To support this process-based tracking, Tracr will also be using stone images, planning files and a diamond's physical properties to verify authenticity through data science and physical identification techniques.
About Diacore
Diacore, a multinational luxury diamond company, has diversified interests in the diamond industry providing rough and polished diamonds to customers around the world. The company has manufacturing facilities in Botswana, South Africa, Namibia and New York and has established its leadership in crafting rare, exceptional diamonds as well as unique high-end jewelry. The company has created some of the most world-renowned masterpieces including the Millennium Star 203.04 carat diamond DFL as well as the Pink Star 59.60 carat Fancy Vivid Pink. Diacore is a proud title sponsor of the Diacore Gaborone marathon.
www.diacore.com: www.sothebysdiamonds.com: www.diacoregaboronemarathon.com
Tracr™ is a trade mark of the De Beers Group of Companies.
Source: Diacore
Share:
---
Categories: Banking, Finance, Insurance, Jewelry, Lifestyles
Tags: Blue Diamonds, Botswana, De Beers, Diacore, Diamonds, High end Jewellery, Pink Diamonds
---