Dex Knows Best Dog Food Donates a Portion of Each Bag Sold to the Sarah Burke Foundation
Sarah Burke Foundation is Giving Away $15,000 in Scholarships to Athletes with Dreams. Winners will be announced on Dec. 15, 2018.
Press Release
-
updated: Dec 11, 2018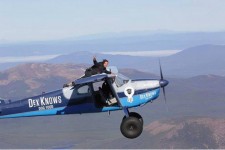 SQUAMISH, British Columbia, December 11, 2018 (Newswire.com) - Rory Bushfield, professional skier, filmmaker, reality TV star and founder of dog food company Dex Knows Best, has established a scholarship fund for promising athletes in honor of his late wife Sarah Burke, a four-time Winter X Games gold medalist and world champion freestyle skier. A portion of every bag sold of Dex Knows Best dog food is donated to the Sarah Burke Foundation. This month, the foundation will be donating $15,000 and announcing two scholarship winners on Dec. 15, 2018 (each athlete receives $7,500).  
Sarah Jean Burke (Sept. 3, 1982 – Jan. 19, 2012) was so much more than just a successful athlete. She was a leader in the sports community, as well as a respected media personality and action sports icon. She was also an activist and a philanthropist, who devoted much of her life to helping others.
Burke was a Canadian freestyle skier and pioneer of the superpipe event. She was a four-time Winter X Games gold medalist and won the halfpipe world championship in 2005. She successfully lobbied the International Olympic Committee (IOC) to have the event added to the Olympic program for the 2014 Winter Olympics. She was considered a medal favorite in the event. Burke died following a training accident in Utah.
Rory Bushfield, Sarah's widower and founder of Dex Knows Best, said, "Each year, we look to sponsor athletes under 18 that have dreams, drive and a clear vision. We are excited to announce this year's scholarship winners on Dec. 15, 2018."
DEX KNOWS BEST DOG FOOD DONATES PORTION OF EACH BAG TO THE SARAH BURKE FOUNDATION
Squamish entrepreneur Bushfield (aka "Bushy") has officially launched the unique dog food delivery company to raise money for the Sarah Burke Foundation. "Sarah rescued Dex from under a car before she passed away. I didn't realize it at the time, but that was the best gift she ever could have given me." 
RAISING FUNDS FOR THE SARAH BURKE FOUNDATION
MADE IN B.C. FROM QUALITY, LOCAL INGREDIENTS
FREE DELIVERY IN BC
Dex Knows Best has created a customized shipment plan to ensure every dog receives the perfect amount of healthy food and supplements straight to their door.
Life is better with dogs. Register for a monthly subscription at dexknowsbest.com.
Media inquiries: blair@dexknowsbest.com / 778 220 7673 
Instagram: @dexknowsbestdogfood / @bushywayne / @sarahburkefdn
Source: Dex Knows Best
Share:
---
Categories: Pets, Charitable Contributions
Tags: Athlete Sponsorship, Dog Food, Dog Food Delivery, Made in BC, Pet Food, Sarah Burke Foundation
---