Detroit Startup Launches Algo 2.0 Making Their AI Enabled Analyst Workbot Even Smarter
Business Intelligence and Enterprise AI come together with a Smart Assistant
Press Release
-
updated: Jan 9, 2018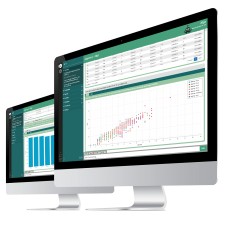 Las Vegas, NV, January 9, 2018 (Newswire.com) - Algomus, Inc. headquartered in Troy, MI launches their 2nd generation Enterprise Analytics Workbot Algo 2.0 at CES 2018. Through the increased application of Machine Learning, including Deep Learning and Robotic Process Automation (RPA) Algo is taking on a more important role in the daily operations of his enterprise customers. The new UI is streamlined, conversational, and context-aware. Algo 2.0 has been optimized to produce answers to complex questions and analytical calculations with flexibility and speed. Improvements in the Natural Language Processing engine and a new Predictive Text feature make the user experience smooth and intuitive.
Key New Features
Context-Aware Conversational Interface
Chat and Search Based Interaction with Data
Multiple Measure Q&A Capability
Data Science and Analytical Workflow Automation
Custom Calculators, Recommenders and Simulators
Enhanced Forecasting Capabilities
A/B Test Tracking
Data Storyboarding via PowerPoint
Collaboration Features: Shared Contexts and Favorites
Workflow Integration via API
Algo co-creator and Algomus CEO Amjad Hussain says "Algo 2.0 is transforming from an Askbot to a Workbot, and transforming organizations from being reactive to proactive with their data. It is a big step forward for us and our customers. Algo is aimed at growing the collaborative intelligence profile of our customers, with people and AI agents working hand in hand to deliver exponential business outcomes."
Company Background
Algomus is a rapidly growing Detroit area startup that has built Algo the world's first Analyst Workbot and Enterprise ML powered Big Data Analytics platform for media & entertainment companies, manufacturers, distributors and retailers. Algo's brain is always on. It mines Big Data and develops an internal representation and higher-level understanding to help business people get answers to their questions quickly, easily and accurately. At its core, Algo learns to perform tedious analytic tasks to give business users more time to be strategic and creative.
Media Contact

Company Name: Algomus, Inc.
Contact Person: Nikki Hallgrimsdottir, Chief Evangelist
Email: nikki@algomus.com
Phone: 832-661-2181
Website: https://algomus.com/
Source: Algomus, Inc.
Share:
---
Categories: Business to Business, Entertainment, Manufacturing, Retail, Business Intelligence, Artificial Intelligence and Expert Systems
Tags: Artificial Intelligence, Big Data, Business Intelligence, Chatbot, Data Analytics, Data Science, Intelligent Assistants, Machine Learning, Predictive Analytics, Prescriptive Analytics, Robotic Process Automation, Workbot
---