Destiny Aurora Graphic Novel Based on the Successful Novel Series & Table Top Game Hits Kickstarter
Press Release
•
updated: Jan 16, 2018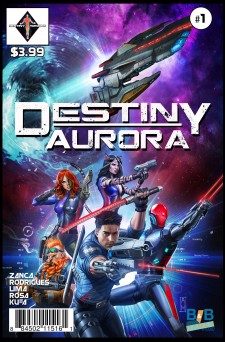 Los Angeles, CA, January 16, 2018 (Newswire.com) - From the Producer of Star Trek: Renegades and Six Gun Savior comes the new science-fiction graphic novel based on a trilogy of novels and a successful tabletop board game of epic proportions. Destiny Aurora is the story of Jayce Carver, a broken man, whose life was turned upside down when his senatorial wife was assassinated while he was tasked with protecting her.
Spiraling into oblivion, Jayce becomes reclusive until his friend offers him a job as a Coalition Inspector. Still wracked by guilt and known for his reckless demeanor, he's assigned a crew no one else wants. Now, after five years, he has finally tracked down the assassin only to follow him through a wormhole taking them all back to the day of the assassination. Will events play out the same or will Jayce change the past?
Destiny Aurora's third novel and the conclusion to the Visarath War storyline is set to release early this year. Introducing new characters, the book is filled with action, adventure and suspense that the title has come to be known for. The epic battle between Jayce and his arch-nemesis comes to a head in an exciting battle not to be missed.
The graphic novel beautifully depicts the characters fans have come to love, including Rovanna, Flibby Rolf and X and allows readers to completely immerse themselves in the Destiny Aurora universe. The three-issue collection is exclusive to Kickstarter and will be autographed by the writer.
About the Author: Frank Zanca is an award-winning writer and producer with a long list of credits ranging from features to television pilots. He has written a half dozen novels that are available on Amazon as well as several screenplays currently under consideration with production companies. He is local to Los Angeles and is beginning development of his next tabletop board game.
Media Contact:
Frank Zanca
Phone: 800-681-5988
Email: fzanca@destinyhorizons.com
https://www.kickstarter.com/projects/1169263915/destiny-aurora-issues-1-3-and-table-top-game ​
Source: Destiny Horizons, Inc.
Related Media