Design Girl Studio is Making Holiday Parties Merry & Bright!
Press Release
-
Sep 20, 2016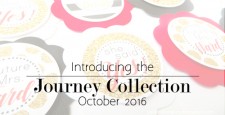 Wellsville, KS, September 20, 2016 (Newswire.com) - Your journey deserves to be celebrated. From the time you laid eyes on one another, to your first dance as husband and wife, to the day you meet your first child each moment will forever have a special place in your heart and mind and deserves a unique celebration of its own. With the Journey Collection, Design Girl Studio is making your celebrations special and memorable with elegant and fun party decorations customized to fit the occasion.
When working on her most current collection it became very apparent to Designer, Alicia Perry that the moments along the journey of life are what we celebrate most. They deserve to be celebrated with fun elegant designs that are simple yet chic and provide the WOW factor any party host is looking for. The Journey Collection gives you the ability to make those special moments extraordinary as you transform your baby shower or bridal shower into an affair to be remembered.
Alicia loves to throw a party that everyone will remember for years to come. Making a celebration stand out in people's memory is her specialty. She has a wonderful eye for design and it can be seen in each item she creates. From invitations to banners, cake, and cupcake toppers, everything simply flows together into one beautifully themed party that everyone is sure to enjoy.
Design Girl Studio is launching the Journey Collection on October 3, 2016, just in time for holiday bridal and baby showers. Classically elegant, these hip and trendy designs come in three exciting color schemes including stunning red and black, with gold accents. A clean fresh version in black and white, with gold touches. As well as a pink, white and gold, perfect for celebrating the arrival of new little bundles of joy. The most exciting feature is all the items are customizable to say what the party host wants. From timeless Mr. & Mrs. banners, Bride to Be rosette pins, to She said Yes table centerpieces all of them can be personalized to fit the feel of your get together.
The Journey Collection really celebrates the important moments in a couple's life together. Making big moments even more special with personalized party decorations made to your taste, style, and discretion. Furthermore, Design Girl Studio makes it simple, easy, and effortless to get the perfect look you are after. Design Girl Studio offers everything you need to coordinate the chosen theme from decorations, balloons, paper goods, to silverware that all work perfectly together.
Being creative is what has driven Alicia to help mothers to be and brides to create the parties of their dreams. Making them feel special as they lead up to some of the biggest events in their life is easy and effortless for her. There should be no sacrifice made for style and of course, because it is a party it should be festive and fun. The Journey Collection gives you the ability to make each special moment extraordinary as you transform your baby shower or bridal shower into an affair to be remembered. Turn your next get together into a occasion that everyone will remember long after the last goodbye.
About Design Girl  Studio
Being creative has always come naturally to designer Alicia Perry who began Design Girl Studio in July of 2008. Before this, Alicia studied interior design at Oklahoma University. After working in the corporate world, she felt something was lacking in her life. There was little freedom to be creative. As her 30th birthday became reality, she realized it was now or never. She left the corporate world behind and opened Design Girl Studio on July 5th, 2008.
Alicia has always loved a good get together and a fabulously decorated party. Hosting parties that are memorable and seem effortless is a passion for her. After eight years of helping others create the perfect party of their dreams with customizable party decor and accessories Design Girl Studio has become the number one spot for party planning. Alicia has made it easy for brides to be, mothers planning birthday parties, and loved ones planning showers to create the party about which they have always dreamed.
Contact Information
You can contact Alicia personally at alicia@personalizedpartydecorations.com or through her contact page at https://personalizedpartydecorations.com/contact/
To view the entire Journey Collection check out https://personalizedpartydecorations.com/product-category/journey-collection/ for all the fun creative designs. 
If you want to see sneak peaks and insider info be sure to check out her Instagram at https://www.instagram.com/designgirlstudio/ and Pinterest at https://www.pinterest.com/dgstudio16/.
For more party planning tips, tricks, and behind the scenes looks join Alicia on Facebook at https://www.facebook.com/designgirl.etsy.
Source: Design Girl Studio
Share:
---
Categories: Small Business, Arts and Entertainment, Hobbies and Crafts
Tags: baby shower decorations, bridal shower decorations, handmade, party supplies
---