Dero is the Exclusive US Distributor and North American Manufacturer of Bikeep Bike Parking Stations
Press Release
•
Jan 23, 2023
Bikeep, the world's leading provider of smart bike parking infrastructure for forward-thinking cities, is now exclusively distributed in the US through Dero and exclusively manufactured in North America by Dero.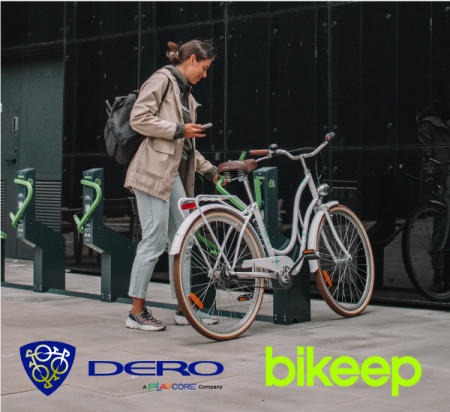 MINNEAPOLIS, January 23, 2023 (Newswire.com) - Dero is proud to introduce its partnership with Bikeep as the North American provider of Bikeep's Smart Bike Parking Stations. These bike parking stations allow users to lock their bikes using a mobile phone or local transportation card. With e-bike demand ever-increasing, the station also provides secure charging capabilities. Whether the project is at a transit station, university campus, or residential building, the bike parking station makes it easier for cyclists to increase their use of sustainable transportation.
"I am incredibly pleased about the partnership with Dero. With their extensive experience designing high-end quality bicycling infrastructure and with Bikeep's novel, software-based parking products, the two companies perfectly complement each other. Our mission is to decrease car dominance in cities through a secure and seamless bike parking network. With our vehicles changing, our cities will change for the better, and we could not be happier to bring this positive change to all forward-thinking cities in the U.S.," says Kristjan Lind, the Founder and CEO of Bikeep.
Bikeep Smart Bike Parking Stations come in a variety of configurations, colors and mounting options to meet the needs of the space. Users lock their bike through a mobile app or access card and then secure with a steel bar. The stations also include an alarm system to deter theft.
"Bikeep stations are a great addition to the Dero product line. They not only address the growing needs of eBike commuters, they're making cycling easier, and bikes more secure, for all cyclists," says Tim Sudeith, General Manager of Dero. "We are excited to be working with Bikeep and to expand the product reach throughout the U.S. and Canada."
ABOUT DERO
Since 1995, Dero has been supplying innovative bike parking and bicycle transit solutions to architects, contractors, municipalities, higher education, and parks and rec. Its bike racks, repair stands and pumps, shelters, and lockers are high quality, thoughtfully designed, and secure. Dero is headquartered in Minneapolis and is proud to support biking locally and nationally.
ABOUT BIKEEP
Bikeep is the world's leading provider of smart bike parking infrastructure for forward-thinking cities. The company's mission is to decrease car dominance through a network of secure and seamless bike parking. The company operates in over 20 countries through partners or local subsidiaries and has over a decade of infrastructure expertise in the smart parking industry.
Source: Dero
Tags