Dental Sleep Medicine Providers Are Available for Physicians and Patients During COVID-19 Pandemic
Press Release
•
updated: Apr 27, 2020
ProSomnus Sleep Technologies Offers Sleep Physicians a Directory of Dental Sleep Medicine Providers Who Are Available During COVID-19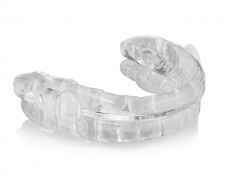 SAN FRANCISCO, April 27, 2020 (Newswire.com) - ​ProSomnus Sleep Technologies, the leading Oral Appliance Therapy medical device for the treatment of Obstructive Sleep Apnea, today announced a directory service of Dental Sleep Medicine Providers who are available for emergent cases during the COVID-19 pandemic. Many qualified Dental Sleep Medicine professionals are available to partner with physicians and serve patients during these challenging times thanks to telemedicine, social distancing, special screening, PPE and Universal Precautions.
"Early data from the CDC indicates that patients with Obstructive Sleep Apnea are at greater risk during COVID-19," stated ProSomnus CEO, Len Liptak. "The purpose of this directory service is to make it easier for physicians to refer their at-risk patients to Dental Sleep Medicine providers who are available during COVID-19 and using modern precision OAT devices to treat these patients."
Precision OAT medical devices, recommended by the American Academy of Sleep Medicine as co-frontline therapy for appropriate patients, offer benefits relevant to COVID-19 including improved patient acceptance and adherence, efficacy, fewer appointments, faster time to treatment and more biocompatible material. ProSomnus precision OAT devices are also covered by Medicare and most insurance plans.
"We have continued to see sleep patients who seem desperate for help during these strange times. Our telehealth appointments work well for both the initial appointments and delivery. When we do see patients in the office, we see them one at a time, they open no doors and they see one team member. We use every precaution called for, and frankly, we are many times safer than the local grocery store. I do consider saving lives through better sleep to be essential, regardless of how outside influences think," stated Dr. Kent Smith, DDS, D-ABDSM, D-ASBA.
"We are fortunate to be using ProSomnus, state of the art devices at this time. The precision fit and therapeutic position accuracy mean less appointments for us and for our patients than traditional custom devices. That is more important now than ever," stated Dr. Mark T. Murphy, DDS, D-ABDSM.
For information about available dental sleep providers in your area, please email Info@ProSomnus.com or call 844.537.5337. A ProSomnus team member will direct you to a qualified Dental Sleep Medicine provider in your area.
____________________________________________________________________
About ProSomnus Sleep Technologies
ProSomnus® Sleep Technologies designs, manufactures and markets FDA Cleared Class II Medical Devices for the treatment of Obstructive Sleep Apnea. Diagnosed by Medical Doctors and provided by Dentists, ProSomnus Devices are the first, precision oral appliance therapy devices designed to enhance compliance, mitigate side effects and enable providers to achieve excellent patient experiences and outcomes. They have been used to treat thousands of patients, with clinical performance that has been validated in numerous studies.
Source: ProSomnus Sleep Technologies