Democratic Reforms Underway in Sudan With Eyes Set on Washington, According to CMPImedia
Testing the outcome of a three-year-long national dialogue among 107 political parties and movements in the East African country of Sudan has begun with possible shocks to the political system
Press Release
-
updated: May 15, 2017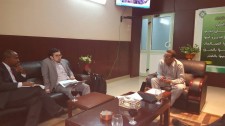 New York, NY, May 15, 2017 (Newswire.com) - Ongoing political reforms in the East African country of Sudan are set to shift the political landscape of the region in historic proportions, even as analysts caution that the country could slide into a one-party rule with potential consequences of groupthink and absence of opposition.
In separate interviews with visiting American journalists in Khartoum, the Vice President, Engr. Ibrahim M. Hamid, and Foreign Affairs Minister, Prof. Ibrahim Ghandour, outlined measures to change the political environment in a country eager to warm up its relationship with Washington after 20 years of economic sanctions set to end in July.
Apparently acknowledging the historic nature of this reform, Hamid remarked that the ruling party approved a two-term limit for office holders as part of the change to rewrite the political future of a region notorious for seat-tight leaders where political figures are forced out of office either by death or uprising. It is believed that the political reforms taking place in a region that witnessed the Arab Spring could be a strategic move to broaden the political space for more participation and transparency.
Engr. Hamid maintained that, going forward, at least 50% of its leadership must be composed of new leaders at all times, thereby paving the way for youths and women to join the political process. "Now we have 60% new leaders and at least 30% are women. Even in the parliament, 30% are women in the central government in Khartoum and in all 18 States of the country," he stated.
Foreign Minister Ghandour described the current political experiment in Sudan as unprecedented and the most ambitious participatory government in the region. "One of the ways that have been used properly is inclusion, and this is why the national dialogue came into existence almost 3 years ago by the decision of the president in 2014 involving 107 political parties and movements talking to each other for almost two years and agreeing on recommendations that ceded 900 accommodations of issues of concern from politics to economy to governance to foreign policy," the top diplomat stated.
He spoke of the nexus between a country's domestic policy and foreign policy, stressing that the Bashir administration in Khartoum was determined to forge peace within the country and also with South Sudan government in what he phrased as the "price of peace."
In the words of Sudan's top diplomat "… for the price of peace, it has been too high to have part of the country to be lost and part of the people created a new country, and we continue talking to the rebels, including the people of Darfur," as exemplified in the Abuja, Doha, and Addis Ababa rounds of talks.
Ghandour, who displayed apparent mastery of his job, spoke of the strategic importance of Sudan in the restoration of peace and security in the region and emphasized the shared bond among countries in the horn of Africa.
Source: CMPImedia
---
Categories: Politics, Diplomatic Relations, Administration and Management
Tags: Africa, democracy, peace, political party, Sudan
---