Deepak Srivastava to Lead the International Society for Stem Cell Research Beginning in 2019
Press Release
•
updated: Jun 14, 2017
Gladstone investigator is elected VP of the preeminent organization dedicated to stem cell research and treatments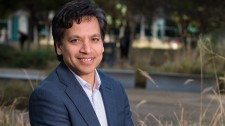 SAN FRANCISCO, CA, June 14, 2017 (Newswire.com) - Deepak Srivastava, MD, was elected vice president of the International Society for Stem Cell Research (ISSCR), the voice of the global stem cell research community. Srivastava, who pioneered the use of stem cells for heart disease, is director of the Roddenberry Stem Cell Center and a senior investigator at the Gladstone Institutes. His term will begin on June 18, 2017, following the ISSCR Annual Meeting in Boston.
"I am deeply honored by this election," said Srivastava. "I welcome the opportunity to help ISSCR advance worldwide efforts to develop new stem cell and regenerative medicine therapies. It will be my privilege to represent our scientific community as we find ways of harnessing the promise of stem cell biology to alleviate human suffering."
"I welcome the opportunity to help ISSCR advance worldwide efforts to develop new stem cell and regenerative medicine therapies."

Deepak Srivastava, Senior investigator at the Gladstone Institutes and newly-elected ISSCR vice president
Following his one-year term as vice president, Srivastava will serve as president-elect for one year. Then, beginning in June 2019, he will become ISSCR President for one year.
"Stem cell biology has become one of the most exciting and promising areas of research, with real impact on how we treat human disease," said Gladstone President R. Sanders Williams, MD. "With its meetings and journals, ISSCR has developed a significant role in communicating and promoting groundbreaking advances in the field. Deepak is perfectly suited to be at the helm of this growing global society."
ISSCR is an independent, nonprofit organization that seeks to promote and foster the exchange of information and ideas related to stem cell research. Formed in 2002, it now has nearly 4,100 members in more than 60 countries. The Society sponsors national and international scientific meetings, publishes the journal Stem Cell Reports, and provides public information through A Closer Look at Stem Cells.
"I am pleased that Deepak Srivastava will be joining the ISSCR leadership, and look forward to his contributions," said current ISSCR President Sally Temple. "This is an exciting time for stem cell research, and I am confident that Deepak will continue to promote the field, as our research leads to better treatments for diseases affecting millions of people around the world."
About Deepak Srivastava
Deepak Srivastava is Director of the Roddenberry Stem Cell Center, as well as the Younger Family Director and a Senior Investigator of the Gladstone Institute of Cardiovascular Disease at Gladstone Institutes. As such, he has assembled an extraordinary team of stem cell scientists, including Nobel laureate Shinya Yamanaka, MD, Ph.D. Srivastava's research focuses on the molecular genetics of early heart development and the use of direct cellular reprogramming to restore function to damaged hearts.
Srivastava is the Wilma and Adeline Pirag Distinguished Professor in Pediatric Developmental Cardiology. He is also a Professor in the Department of Pediatrics and the Department of Biochemistry & Biophysics at the University of California, San Francisco (UCSF), and an attending pediatric cardiologist at UCSF's Benioff Children's Hospital. He received a BA in biochemistry from Rice University and an MD from the University of Texas Medical Branch at Galveston. Srivastava completed a residency in pediatrics at UCSF and a fellowship in pediatric cardiology at Harvard Medical School. He is a member of the National Academy of Medicine and the American Academy of Arts and Sciences.
Source: Gladstone Institutes
Additional Links