Deelum Builders Brings Elevated Living to Mexico's Magical Hot Spot Town
Press Release
•
Aug 3, 2023
Deelum partners with Mexico's top builders and architects to bring conscious luxury living that respects the native environment and culture. Tulum is the Hotspot to invest now with a new international airport and Mayan Train coming late 2023.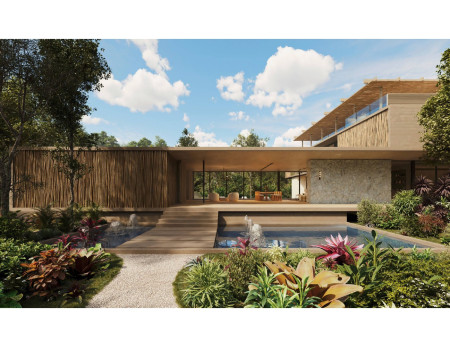 TULUM, Mexico, August 3, 2023 (Newswire.com) - Deelum Builders Brings Elevated Living to Mexico's Magical Hot Spot Town.
Deelum Builders is thrilled to announce its launch in Tulum, Mexico as a leading luxury real estate developer of high-end residential properties that pay homage to the area's native history, culture and natural environment.
Deelum Builders
Inspired by the natural beauty of Mexico, all of Deelum's purpose-built luxury homes are carefully placed with intention in prime locations across Tulum that provide the best in privacy, security and comfort, all while coexisting in harmony within the breathtaking natural environment that Tulum is known for worldwide.
Deelum's founder, Michael Dee, and his team are renowned for developing elevated living spaces that are inspired by Mexico's organic magnificence. With 25-plus years in the global real estate industry, Dee brings a wealth of exceptional knowledge and passion for creating sustainable and elegant living spaces to Deelum Builders in Tulum.
Deelum is proud to partner with leading local developer Arturo López of Improving Estrategias Integrales SC/CDM. Based in Puebla, Mexico, Improving Estrategias Integrales constructs commercial spaces and luxury homes across Mexico, now with a focus in Tulum.
"We are proud to partner with a company that shares our values and is dedicated to delivering the highest quality of design and construction." said Michael Dee, founder of Deelum.
Deelum Architects
Deelum is committed to ensuring that every home in its portfolio honors and lives in harmony with the natural surroundings. The team pays meticulous attention to detail to ensure that every expectation is met, building not just dream homes but also long-lasting relationships and friendships in the process.
To help bring projects to life, Deelum has partnered with world-renowned architect Scott Hudgins of Hudgins Design Group, which has built a reputation for creating contemporary designs that focus on each project's unique social, cultural and physical qualities. The award-winning design firm employs sustainable practices with the goal to create timeless spaces that positively impact people's lives and connect clients to the natural environment.
Deelum and Hudgins Design Group are currently constructing one of the most exclusive estates to hit the market in Tulum. Located in a private community, the luxury home is set on five pristine acres within the heart of the jungle.
"All of our locations are designed to provide discerning clients with the perfect balance of privacy and luxury in prime locations across Tulum," said Dee. "We take great pride in our firsthand experience living and working in Tulum, and our highly-valued local connections, which allows us to offer our clients the best in privacy, security and comfort while living in harmony with nature."
From luxury airport transportation to facilitating spa and dinner reservations, all Deelum residences offer top-of-the-line amenities to meet individual needs, while maintaining the elevated appearance, experience and sense of community that Deelum is known for throughout Mexico making sure to find the perfect home for clients to make memories that will last a lifetime.
Luxury isn't a price! It's an experience.
Learn more at deelum.com
Contact Michael Dee for the newest opportunities to hit the market by texting or calling him on WhatsApp:
USA cell 1-602-793-3002
MEX cell +52-984-177-7066
Email michael@deelum.com Instagram @michaelsdee @deelumtulum
Source: Deelum
Related Media